Connecting to, and protecting, nature at heart of new exhibit from artists Christi Belcourt, Isaac Murdoch
When people come to view her exhibit at the Thunder Bay Art Gallery, Christi Belcourt hopes they see part of themselves in her vibrant, colourful paintings of the natural world.
"I hope they feel beautiful and vibrant themselves," she said.
"We want people to come out feeling just amazing. We want people to come out of here feeling empowered and feeling like they really are a part of this earth and that it's worth fighting for."
Belcourt, a celebrated Métis artist known for her images painted with dots to resemble traditional beadwork, was recently in Thunder Bay for the opening reception of her mid-career retrospective exhibit, Uprising: The Power of Mother Earth.
The exhibit, which includes work spanning more than two decades, also features collaborations with Isaac Murdoch.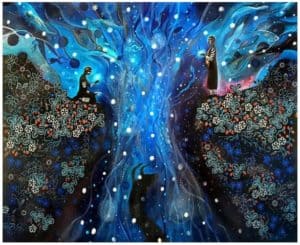 Together, the two artists hope to inspire people to take action to protect the environment, said Murdoch, referring to concerns about things like climate change and water pollution.
An 'uprising for the earth'
"My hope is that this beautiful gallery will inspire people to … make change for the future," said Murdoch.
"Every discipline of science all over the world is saying the same thing, we are in a massive crisis," he said. "If there was ever a time when we needed an uprising for the earth it would be right now. So this is what this is all about."
Belcourt and Murdoch, who have collaborated on art intended expressly for use by activists, as well as culture camps for youth, also recently held a community event in Thunder Bay, where they invited people to join them to create banners calling for water protection.
"The things that we enjoy the most is working with community, and having people come out and participate in creating art to try and save the world," said Belcourt.
The exhibit is showing at the Thunder Bay Art Gallery until Nov. 25. It will then tour to galleries in Ottawa, Joliette, Que., Regina and Winnipeg.