Economic and social growth, and future legacy sports facilities among benefits, says organizer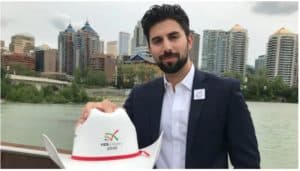 A new grassroots organization is pushing for Calgary to bid on the 2026 Winter Olympic and Paralympic Games.
Jason Ribeiro, an organizer with Yes Calgary 2026, says the group is comprised of people from the public, private and non-profit sectors.
"There's no formal structure. We're just a bunch of committed people ready to understand what a positive vision for the city and the Olympics might mean looking toward 2026," the University of Calgary leadership PhD student said.
The group is hoping to rally support for the Olympics as an opportunity for Calgary.
"[It's] really, really exciting to frame a conversation about what potential opportunities exist … what yes and a positive message about the Olympics and the city itself might mean and how do we move that forward as we gear toward a plebiscite," Ribeiro said.
"I think that includes economic growth, social growth, a real positive vibe around the city around sports and future legacy facilities and what could be possible, but also on things we don't often think of like accessibility. How exciting would it be to create the most sustainable Olympic and Paralympic games?"
On Saturday, the Canadian Olympic Committee voted to approve Calgary as a potential host for the Games.
The deadline to submit a formal bid to the International Olympic Committee is January 2019, and the city is expected to hold a plebiscite in fall on whether or not to proceed with a bid.
The cost of a formal bid for the Games has been pegged at $30 million, while the cost of hosting the Olympics is estimated to be $4.6 billion.