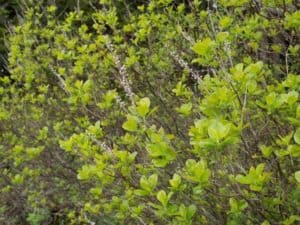 HALIFAX — The Nova Scotia Nature Trust says the protection of lands that are home to a nationally imperilled plant species marks a significant step towards the recovery of the sweet pepperbush.
The trust says the newly protected property in Digby County is one of only two conservation habitats for the plant in Canada.
The 44 acres of land — donated by Mary Guptill and Delbe Comeau — encompasses almost an entire island on Belliveau Lake, near Weymouth, N.S.
The trust says the scenic shoreline provides a habitat for threatened sweet pepperbush, and protection of the lands could be critical for the species' survival.
Within Canada, the plant is found only on six Nova Scotian lakes, including the protected Louis Lake — part of the Tusket River Wilderness Area.
The sweet pepperbush is a leafy shrub with small, fragrant white flowers.
Bonnie Sutherland, executive director of the Nova Scotia Nature Trust, said other remaining habitats for the plant are threatened by cottage development.
"Where many of our most unique and important natural areas are privately owned, the success or failure of biodiversity conservation in Nova Scotia depends largely on protecting nature on private land," Sutherland said in a news release.
"This achievement is big news for recovery and conservation of a species at risk of extinction."
Guptill, a forester by profession, became interested in the island 30 years ago when she learned that it was home to the sweet pepperbush.
The trust said Guptill devoted herself to protecting the entire island, a significant task given its highly fragmented landownership.
Guptill reached out to every landowner on the island, sharing her vision of amalgamating all the parcels to protect the rare plants and unique forests.
Eventually, she successfully acquired 90 per cent of the island, and turned to the Nova Scotia Nature Trust to ensure it would remain protected.
"I feel tremendous relief knowing this special place is now in safe hands," said Guptill, who spent many days and nights exploring and camping on the island.
The Nova Scotia Nature Trust protects more than 11,000 acres of land in Nova Scotia, encompassing 94 protected areas across the province.
The Canadian Press