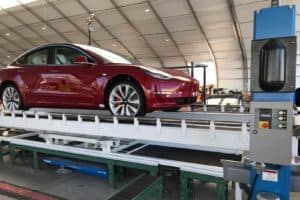 Remember how Elon Musk casually mentioned that Tesla had built a new assembly line in just three weeks to help it meet its lofty Model 3 production goals? It was more audacious than you might have thought. A combination of follow-up tweets from Musk, first-hand observations and Fremont's own approval process has made clear that Tesla built new manufacturing inside a group of several giant tents (or rather, tent-like Sprung structures) to boost output of its high-volume EV. If you think that sounds audacious, you'd be right. Ars Technica learned that each 'tent' is 150 feet long and 53 feet high, and there's no known instance of other car manufacturers doing this before.
The Fremont approval gave Tesla six months, although it could extend that permit further if it wanted. And there's a real chance it might become permanent. Musk claimed that the new line is "way better" than another assembly line that "cost hundreds of millions," and wasn't sure if his company "actually need[s] a building." Sprung's structures are considerably sturdier than actual tents, and the man challenge is ensuring that the outdoors doesn't affect production.
Whether or not this actually helps Tesla meet its 5,000-per-week Model 3 production target isn't certain. Musk was touting the tent in mid-June, or just a couple of weeks before the end-of-June target. At the time, Tesla was up to 3,500 cars per week — much better than before, but that left a lot of room for improvement. It depends on when the outdoor manufacturing began and how much it's contributing to the end result. If nothing else, it shows Musk's determination to meet targets and get Tesla back into profitability.
This article originally appeared on Engadget.