Lanying Wei, 81, was in Canada for only 3 days when she went missing Monday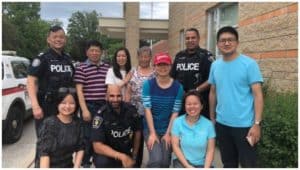 A North York man has donated $5,000 to a local school after a group of teachers, school staff and parents found his missing grandmother.
Rong Liu says 81-year-old Lanying Wei was in the country for only three days when she went missing Monday.
He says she was out at 6 a.m. for her morning exercises when she disappeared, leaving the family to contact police to help find her.
Wei, however, soon turned up at the doors of Henderson Avenue Public School, north of Steeles Avenue East. midway between Bayview Avenue and Yonge Street in Thornhill.
Jan Skalny, a caretaker at the school, said he was taking out the recycling when he spotted her.
"This elderly lady came up to me with a bottle of water in her hand and I go, 'Can I help you?'" Skalny said.
"She couldn't speak English, so I said, 'Okay, fine. Do you need water?' She still couldn't answer, so I just went and got some more water and gave it to her."
Teachers Cheryl Lee and Kristen Watt also came across Wei. They say they tried to provide her with food and water and see if they could contact someone for her.
"We kept asking her questions, trying to ask her if she's looking for someone, if she had somebody in area that we can call. She wasn't able to provide us with that information," Lee said
Lee and Watt attempted to speak with the elderly woman, but as Wei speaks only a rare dialect of Chinese, communication proved to be difficult.
"Both of us speak Cantonese, so we were trying to communicate with her to see if she understood or maybe she spoke Mandarin instead, but apparently, she didn't speak either," Watt said.
A parent at the school soon recognized Wei from WeChat, a social media app, and was able to reach out to her family.
"When I turned on my Friends Circle, the first post was the message, looking for lost old lady, and the pictures looked exactly the same — very similar to the old lady in front of me, so I dialled the phone number and it turned out luckily that it was the grandson," Joanna Zhou said.
Liu was soon reunited with his grandmother.
"I came with my father and my sister. We all cried in that moment. I don't have enough words to express [my] appreciation," he said.
"My grandmother was accompanied by the school teachers and parents and the police officer here. She said, 'They are wonderful people.' They are helping her a lot."
Rong Liu brought chocolates and donated $5,000 to Henderson Avenue Public School on Wednesday after staff and parents found his missing grandmother. (Sue Goodspeed/CBC)
On Wednesday, Lui showed his appreciation by delivering a cheque for $5,000 and boxes of chocolates to the school and also had plans to go to the police to personally thank them.
Henderson Avenue already has big plans for the cash.
"We are in the middle of redoing our library and making it more of an innovative learning space, and we will certainly be using the donation towards that," principal Debbie Mida said. "I'm very proud of my staff and I'm also very excited and the staff is very excited for the donation."