Mobi also reducing minimum age to ride a bike from 16 to 12 years old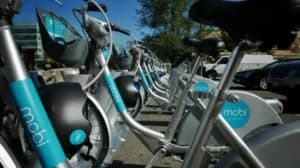 Vancouver's Mobi bike-sharing program is introducing an annual pass for low-income users.
Up to 300 annual unlimited-access passes will be offered at $20 per year, as part of a one-year pilot program with Vancity.
The usual cost for an annual pass is $159.
The pass is available to people holding a reduced-cost Compass Card or the city's low-income Leisure Access Card, or through a referral from a community partner.
"We're very keen to see what the take up is and to learn from it, so that we can expand it to other parts of the region," said Vancity CEO Tamara Vrooman.
Expanding to East Vanouver
Mobi is also reducing the minimum age to ride a bike from 16 to 12 years old.
A parent or legal guardian will have to buy the pass and confirm that the rider meets a minimum height requirement.
The program has completed its initial expansion in East Vancouver all the way to Commercial Drive, which includes 26 new stations and more bikes coming later this summer.
Mayor Gregor Robertson said the city is looking at possible changes to Commercial Drive.
Those would include widening sidewalks and adding protected bike lanes, while maintaining parking for businesses, he said.
Mobi has logged 930,000 rides since launching in July 2016. There are currently 150 stations with more than 1,500 bikes.
Mobi may have future competition, as the ride-hailing service Uber has expressed interest in offering bike rentals as well.
Uber recently purchased the electric bike sharing company Jump.
"We're excited to bring bikes to Vancouver and the region," said Andrew Salzberg, Uber's Global Head of Transportation Policy and Research.
Salzberg said the next step for Uber bringing electric bike rentals to Vancouver is to wait for incoming ride-sharing legislation to be given the green light from B.C.'s government.
He acknowledged ride-sharing legislation isn't a necessity for bike rentals, but stressed the company wants to be able to offer both car rentals and bike rentals at the same time.