All humans may be linked to one another by only six degrees of separation, but until recently, eight layers of management separated McDonald's Corporation (NYSE: MCD) field consultants from CEO Steve Easterbrook. As The Wall Street Journal reported last week, McDonald's will soon initiate a fresh round of corporate layoffs that will further flatten its operating structure, removing two middle-management layers between field consultants and the company's CEO. The number of dismissals won't be disclosed until an employee town hall meeting to be held tomorrow (June 12).
The cuts are part of McDonald's initiative to trim selling, general, and administrative expenses by $500 million from a 2015 base of $2.6 billion. When this plan was first announced in late 2015, McDonald's indicated that the "vast majority" of the savings would be realized by year-end 2017.
That statement turned out to be ambitious, as did the company's claim in 2016 that an additional 5% to 10% in reductions from the remaining 2015 base (equal to $100 million to $200 million), would be realized by year-end 2019.
Currently, McDonald's has reverted to its original goal. It expects to win $500 million in cost reductions — and no more — by year-end 2019, having cumulatively completed $300 million of cuts as of the end of last year. Shaving off one-fifth of corporate overhead without losing effectiveness is no trifling project, so investors should be satisfied once this mark is achieved next year, despite the revisions and sliding targets.
Yet this latest iteration of cost savings, in the form of headcount reduction, is about more than reaching a promised fiscal number. As a McDonald's spokesperson stated to Reuters last week, "We are putting into place a new U.S. field structure that will better support our franchisees and will ensure McDonald's continues on a path to being more dynamic, nimble, and competitive."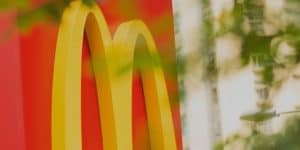 Dynamism, nimbleness, and competitiveness have been guiding principles ever since Easterbrook took over the helm of the quick-service giant in 2015. It's useful to place these principles in the context of two other bits of news released last week.
First, McDonald's disclosed that it's going to increase the installation pace of self-ordering kiosks in its restaurants, to roughly 1,000 per quarter over the next two years.
Ostensibly, the kiosk ramp-up is another cost-saving measure. The capital investment that franchisees make in the screens will theoretically help with rising wage costs, although it's unclear at present just how much of a labor offset the kiosks will deliver over the long term.
The benefits of self-ordering technology, however, extend beyond cost. Easterbrook noted in an interview on CNBC last week that kiosks increase customer dwell time, which tends to result in bigger average tickets. Perhaps most important, vibrant interactive ordering boards are quite effective as a restaurant refresh tool. Easterbrook admitted in the interview that U.S. locations "have got a bit tired looking" as of late.
Image rehabilitation is one of the overarching strategic constants that have characterized the company's last three years. And I'm referring not only to physical locations, but the global consumer's perception of McDonald's as a viable dining option.
Which brings me to the second news item, McDonald's opening of its new headquarters last week in downtown Chicago, in the former site of Oprah Winfrey's Harpo Studios. The glassy, nine-story, open-plan building seems a world away from the former secluded Oak Brook, Illinois, campus. But it should appeal greatly to the hordes of millennial marketers, data analysts, and social brand whisperers whom the company will need to attract in order to grow in the coming years.
Put another way, McDonald's management has traded its serene, detached, boardroom environment for what on many floors amounts to a glorified 21st century coworking loft. But culturally, this is just where executives need to be, and the modern premises should foster speedier innovation in line with Easterbrook's personal decision-making style.
And mindset will only become more important in the future. To be nimble, competitive, and dynamic requires an openness to quickly acting on profitable trends, versus the company's discarded process of testing ideas into near-oblivion. McDonald's rapid and profitable entry into the world of online order and delivery is a good example of management's current proactive philosophy.
So, when you read the headlines on new McDonald's initiatives, understand that they'll often be couched in financial terms. But the raft of changes shareholders are witnessing are more properly understood as cultural first, and economic second. That's a method for building a more profitable, and ultimately more sustainable, bottom line.