Danielle Dorris, 15, tells students to never let differences or problems defeat them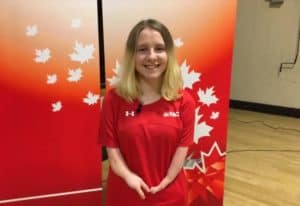 When 15-year-old Danielle Dorris was young, her parents told her "you're not allowed to say I can't, only I can."
Dorris was born with only a portion of her arms, but she never let that hold her back.
The Moncton teen is the youngest athlete ever to represent Canada at the Paralympic Games. She was 13 when she competed in Rio de Janeiro in 2016.
"Overwhelming and also very star struck because I'm just like, 'Oh my gosh, I'm in Rio, what is happening?'" said Dorris. "And then just going up to the block to go race I'm just like, 'OK, this is just another meet and let's just have fun with it and see what happens.'"
Dorris didn't win a medal, but says she swam some of her personal best times.
On Friday, the former student of Bessborough School returned for an assembly to share her story and talk to students about perseverance, hard work and overcoming obstacles. Her message was simple: don't let differences or problems defeat you.
The students listened carefully to her message.
Grade 2 student Camden Salerno said he loved her speech.
"I can't explain it, I don't really have the words," he said.
Fellow second grader Eli Mattatall said her talk was "amazing."
"I think it's pretty cool that we have an Olympian from Moncton and she used to go to this school," he said.
Her father, Jean-Pierre Dorris, looked on proudly.
"It's very fun and it's very rewarding to see her returning back, giving back to her old school," he said. "Just before the Olympics the school did a bit of a fundraiser … to help Danielle train, and now to be able to return the favour…it's an inspirational contribution and it's good to be able to see my daughter do that," Dorris said.
Dorris describes his daughter as a determined go-getter.
"She's starting to realize she's a role model, she's proud of that," he said.
Danielle Dorris is now a student at Bernice MacNaughton High School.
"I think of myself as a double agent," Danielle said. "I live two lives: my athlete life and my school life, and sooner or later it'll be one or the other, and I'm pretty sure it's going to end up being the athlete."
Dorris will continue to train and says the next couple of years will be busy.
"This summer I will actually be doing trials to go to Australia for a games and I just can't wait to see if I make the team," she said. "Then next summer there's more games and more trials to try out and then it's Tokyo 2020."
A framed photo of Dorris swimming was presented to Bessborough School at the end of her visit.