Best known for supplying connectivity chips for smartphones, Skyworks Solutions (NASDAQ: SWKS) has been leveraging its success into new markets. However, even after doubling many times over in the last decade, the stock could still have plenty left in the tank to make investors money.
What is Skyworks Solutions?
Though making chips for various smartphone manufacturers like Apple is still Skyworks' bread-and-butter, the world is quickly moving to a new mobile era where everything is connected to the internet. That is creating widespread demand for the company's connectivity chips and helping it find new sales outlets beyond phones.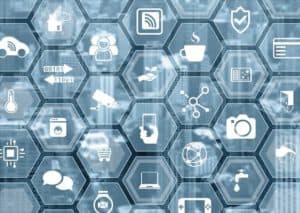 For example, during the last earnings call, management mentioned several new deals that helped propel growth. Skyworks partnered with a leading auto manufacturer to connect its global fleet to the internet. Production was increased for Alphabet's Nest connected security cameras, as well as for other smart home "mesh network" devices that don't need a central hub for connectivity. Skyworks also provided parts for upcoming high-end all-in-one notebooks.
All of that led to year-over-year revenue growth of 7%. That's a slowdown from times past, and that has led to earnings per share contracting 28% so far during the current fiscal year. Part of that is due to increased research and development expense, as well as some one-time tax expenses related to U.S. corporate tax reform passed at the end of 2017. On an adjusted basis, earnings are up 19% for the fiscal year.
Why is now the right time for the stock?
Skyworks expansion into new markets could be just beginning. In the U.S. and other developed countries, 4G mobile networks are old news, but for a large portion of the world 4G hasn't yet arrived. Skyworks continues to develop technology to get emerging markets caught up to the latest in mobile capabilities, providing a solid foundation for its smartphone business.
In addition to that, 2018 will go down as the year that 5G networks arrived. The next-gen mobile platform is faster, has lower latency, and thus will help power the billions of devices that are expected to get hooked up to the internet over the next decade. To that end, Skyworks recently unveiled its Sky5 line of products enabling 5G connections.
Management has been positive in its outlook, but it backed that up with a new $1 billion share repurchase plan through January 2020. That's a big number considering Skyworks' entire current market cap is $18 billion and nicely complements the current dividend yield of 1.3%. Share repurchase plans are another way to return extra cash the business generates to shareholders, but it's also a vote of confidence from management that its own stock is a good use of money.
It is worth noting that, due to the smartphone industry slowing and worries over a protracted trade war between the U.S. and China, revenues are expected to come in slightly down to flat in the next quarter. However, sales growth is expected to pick up once again late in 2018, and earnings are expected to continue climbing even during the sales slowdown due to better profit margins on products, a lower tax rate, and that previously mentioned share repurchase plan.
Though Skyworks has already provided huge returns to early buyers of the stock, there is potential for new owners to be richly rewarded. The chipmaker is still relatively small, and the fast-growing number of connected things around the world is helping diversify revenue beyond just smartphones. The stock looks like its worth owning for the long term.