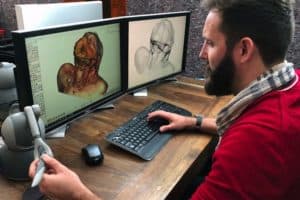 It's not the most glamorous part of medicine, but cadavers, aka dead bodies used for training, are an essential resource for learners. Unfortunately, they are also not readily available. An increasing number of physician assistant and nurse practitioner programs, along with a shortage of donations, means that there is frequently a strain on supply. Could cutting-edge technology help?
Quite possibly so, suggests a project from Montpellier Medical University in France, Artec 3D and medical assessment company IMA Solutions. They are using the latest 3D scanning and virtual reality technology to create photorealistic virtual cadavers which can be used by students and professionals to carry out realistic dissections — without necessarily having to touch a real dead body in the process. The tool is being turned into an app, which is planned for release later in 2018.
"Two surgeons from the Montpellier Medical University city anatomy laboratory, Dr. Guillaume Captier and Dr. Mohamed Akkari, had the idea to create a VR application so medical students will be able to practice dissecting bodies in VR before attempting the task on a real cadaver," Andrei Vakulenko, chief business development officer at Artec 3D, told Digital Trends. "In the app, there will be a practice mode and also an examination mode for the professors to run. In the practice mode, the user can select a part of the anatomy, will be given information on how best to dissect this area and can attempt it. In the examination mode, the student will need to answer questions and show his or her dissection ability. Once a student passes the examination mode, he or she will have sufficient practice and experience to try dissecting a real corpse."
The cadavers in the app are 3D-scanned versions of real bodies. These were scanned with a metrological grade Artec Space Spider 3D scanner to ensure that the visuals look as realistic as possible. Vakulenko noted that the scanning had to be carried out very quickly because of the changes the body undergoes over time, and the fact that it needed to appear consistent in the app itself. The dissection itself can be carried out using haptic tools which will allow trainee surgeons to practice their operating skills.
"The app is still in development, but the plan is to make the dissection as realistic as possible, working at high 3D real-time refresh rates and also simulating the use of surgical tools with a device like the 3D Systems' haptic device, which gives the actual sense of touch and physical pressure," Vakulenko said.