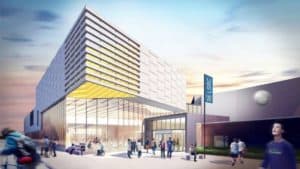 The University of Windsor's board of governors has approved the building of a new athletics facility.
Both undergraduate and graduate students voted in favour of the Lancer Sport and Recreation Centre back in 2017. A vote by the board of governors was the last hurdle before development on the new sports upgrade could leave the starting line.
The groundbreaking is targeted for the spring of 2019 with early work starting this fall.
"No student will pay any fee until the academic year in which the building is open [has started] … The initial fee will be $125," said human kinetics dean Michael Khan.
Students voted in favour of funding $55 million of the project over the next 30 years. The university agreed to fund the remaining $18 million of the capital — along with the operating costs of the project.
What to expect
The facility will include a new triple gymnasium with seating for about 2,700 spectators, housing events such as convocation and numerous community events.
An eight-lane pool will replace the existing 50-year-old pool found in the St. Denis Centre.
At 12,000-square-feet, the Lancer Sport and Recreation Centre's new fitness facility will be almost twice the size of the existing one.
Five multi-purpose rooms will provide students with a place for yoga, dance and spin classes, martial arts and CrossFit.
For more than just athletics
Khan said the Lancer Sport and Recreation Centre is meant to serve as a new student hub.
"It's going to be a place that students can call their home. The idea here is that they will all gather up afterward for social time and there would be spaces provided for study," adding the facility will host summer camps and events like FIRST Robotics tournaments.
Getting ready
Public membership rates have yet to be confirmed, but Khan promises the facility will be heavily utilized by the community.
The facility will be built up around the St. Denis Centre and will take up space on some of the existing soccer fields.
"We'll be adding on a new artificial turf field and then refurbishing some of the grass fields."
The Lancer Sport and Recreation Centre is expected to open in the fall of 2021.