I wrote three months ago that I viewed Alnylam Pharmaceuticals (NASDAQ: ALNY) stock as a pretty good pick — but with a couple of qualifications. First, I didn't think that the biotech would generate returns in 2018 nearly as great as it did last year. Second, I thought that there were even better stocks to buy than Alnylam.
Since that article was published, Alnylam stock is down more than 15%. At least I was right about 2018 not being as good as 2017 and that there were better stocks to buy. With Alnylam significantly cheaper than it was earlier this year, has the investing case for the stock changed?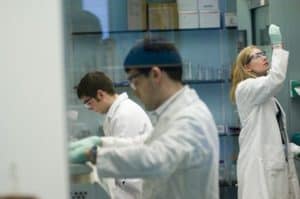 A different dynamic
I'll be the first to admit that I didn't see it coming. I'm referring to Pfizer's (NYSE: PFE) surprisingly positive results from a phase 3 study evaluating tafamidis in treating transthyretin (TTR) cardiomyopathy, a rare condition associated with progressive heart failure. I like Pfizer and even own the big pharma stock, but tafamidis didn't rank high on my list of reasons why.
Alnylam's lead candidate is patisiran. The drug uses RNA interference (RNAi) to treat hereditary ATTR amyloidosis, which includes patients with cardiomyopathy symptoms. Alnylam hopes to obtain FDA approval for patisiran by early August 2018.
Like many, I expect patisiran will win FDA approval. Also like many, I thought that Ionis Pharmaceuticals' inotersen would probably be the primary potential competition for patisiran. However, I viewed patisiran as the stronger product due to its efficacy and safety.
Now, though, it appears that Pfizer could present a real threat to both Alnylam and Ionis. Tafamidis is a capsule, which should give it an advantage over patisiran, which requires infusion every three weeks, and inotersen, which is an injection. Also, Pfizer has marketed tafamidis in Europe for several years as a treatment for TTR familial amyloid polyneuropathy (FAP), so the drug has an established safety track record that neither patisiran nor inotersen yet have.
Pfizer's clinical win means there is a different dynamic for Alnylam than just a few months ago. However, I still think that patisiran will be successful, although peak sales could be lower than the $1.5 billion projected by some analysts.
Looking beyond patisiran
Nothing has shaken up the landscape for the other candidates in Alnylam's pipeline. The biotech is evaluating givosiran in a phase 3 study for treating rare liver disease acute hepatic porphyrias (AHPs). Topline interim results from this study are expected to be announced in September. Assuming all goes well with this study, Alnylam expects to submit for FDA approval of the drug by late 2018.
Alnylam's partner, Sanofi (NYSE: SNY), is taking the lead on a phase 3 study of another experimental RNAi therapeutic, fitusiran, in treating hemophilia A and B. Sanofi now has global rights to the drug as a result of a restructuring of the two companies' rare disease collaboration agreement signed in 2014. Alnylam stands to receive royalties between 15% and 30% of any future sales for fitusiran.
Another of Alnylam's partners, The Medicines Company (NASDAQ: MDCO), completed enrollment in phase 3 studies of inclisiran, an Alnylam-developed RNAi drug targeting treatment of hypercholesterolemia. If inclisiran ultimately wins approval, Alnylam will be eligible for milestone payments and royalties of up to 20% on all sales of the drug.
Alnylam will also soon have another late-stage pipeline candidate. The company plans to move forward with a phase 3 study of lumasiran in treating rare genetic disease primary hyperoxaluria type 1 (PH1) in mid-2018. Results from this study could be announced next year. Alnylam would probably be able to file for regulatory approval in early 2020 if lumasiran succeeds in the late-stage study.
To buy or not to buy?
Alnylam's market cap is now around $10.3 billion. That's still an optimistic valuation for a company that lost more than $140 million in the first quarter.
Is the stock a buy? I still think it is. The biotech could benefit from a couple of catalysts over the next few months: FDA approval of patisiran and positive clinical results for givosiran.
But I still have the same qualifications in viewing Alnylam as a buy. The stock isn't likely to generate a huge return in 2018 and I continue to think that there are better stocks, including other biotechs, that have more room to run.