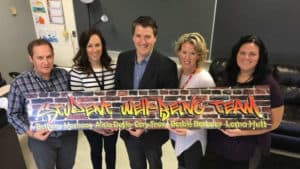 More student well-being teams will be started in P.E.I. schools in September, adding to the program already running in other schools.
Education, Early Learning and Culture Minister Jordan Brown says the Bluefield, Colonel Gray and the Morell-Souris families of schools and the French schools in those regions will have teams in place at the start of the next school year.
Teams are already in place in the Montague and Westisle families of schools.
"Westisle and Montague students now have more timely access to supports that help them succeed inside and outside the classroom," Brown said in a release.
"Teachers in these schools really appreciate the assistance of dedicated specialized staff who are trained to identify and support student needs."
There will be 22 staff members on the three new teams that will help students deal with anxiety, engagement, social skills and general stress reduction.
The help is being offered by mental health clinicians, school health nurses, school outreach workers and an occupational therapist.
5 teams supported
A $3 million investment from three government departments — education, health and justice — will support the work of the five teams.
Bluefield's team will be based out of Bluefield High School and team members will travel from school to school. The Colonel Gray team will be housed at St. Jean Elementary, and the Morell-Souris team will be located at Morell Regional High.
Geoff MacDonald, the provincial lead for the program, said what has been learned from the first two families of schools will help with the implementation of the well-being teams in the three additional areas.
"The great work of our team members in Montague and Westisle and their feedback throughout the year has helped to create a sustainable program that will help school-aged children and their parents for years to come," MacDonald said.
The remaining three families of schools, Three Oaks, Kensington-Kinkora, and Charlottetown Rural will have student well-being teams by September 2019.