The Woodcutter's Blanket and NWT Brewing Company lauded as 2 of Canada's 50 Best Bars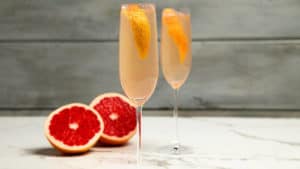 Two northern bars are finding themselves among elite company this weekend.
Whitehorse's The Woodcutter's Blanket and Yellowknife's NWT Brewing Company are ranked 10 and 49 respectively in Canada's 50 Best Bars, a list compiled yearly by culinary guide Canada's 100 Best.
James Maltby, owner of The Woodcutter's Blanket, celebrated his establishment's third anniversary last week. He called the inclusion of his bar on the list a "real privilege."
"It's definitely a surprise," he said. "I think it just goes to show all the things that are changing up North, especially in the food, culinary scene — and even the drinking scene."
Maltby's bar, which is situated in a refurbished log cabin built in 1938, specializes in Prohibition-era cocktails.
"Bartenders focus on seasonal ingredients, infusing negronis with fresh strawberry juice in summer and muddling tequila with blood orange in the winter," states the write-up in Canada's 50 Best Bars.
Those negronis are going to have company soon, because Maltby is in the process of expanding his business. He hopes to dive into the world of brewing — but that's not all — he's expanding the bar's outdoor patio and kitchen.
"The plan is to keep the inside space small and quite intimate and have more flexibility with the patio," he said. "Say, if we want live music, we can have it there."
In Yellowknife, NWT Brewing Company co-owner Miranda Stevens expressed similar surprise at making the list.
"I was speechless," she said. "It's such a huge accolade."
NWT Brewing Company offers a rotating list of craft brews that range from hoppy pale ales to dark stouts and fresh grisettes — which landed in fridges across Canada last summer as part of Central City Brewer's Canada 150 celebration pack. Canada's 50 Best Bars recommends people belly-up to the bar and try the Kicksled cream ale. This particular brew earned bronze at the Canadian Brewing Awards in 2016.
"That definitely put us on the map as far as beer in the N.W.T.," said Stevens. "It's crazy how fast things can grow, and how word can spread."
So what are the secret ingredients that make The Woodcutter's Blanket and NWT Brewing Company stand out?
"That's probably the million dollar question, you know, I gotta speak to these judges and find out," said Stevens.