Pre-feasibility study results announced in St. John's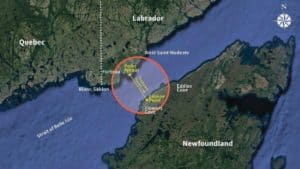 A government study into the feasibility of a permanent link between Newfoundland and Labrador is recommending an undersea rail tunnel at a cost of $1.65 billion.
Such a tunnel would take 15 years to complete, Premier Dwight Ball told a news conference Wednesday in St. John's.
A fixed link tunnel between the two parts of the province has the potential to be a "nation-building project," said Ball, comparing it to the Confederation Bridge that connects Prince Edward Island and New Brunswick.
"Making a fixed link could truly change the landscape and unify our country," Ball said.
The findings came from a government pre-feasibility study into a fixed link for travel between the island and mainland parts of the province.
A public-private partnership, similar to the Confederation Bridge, is a strong possibility to finance the tunnel, said Ball, who added that a project of nature would require "significant partnerships."
Costs and recommendation similar to 2004 study, but experts say they know much more about drilling and the challenging geology beneath the Strait of Belle Isle.
Ball also said that he's open to a partnership with Quebec for the tunnel, and will meet with that province's premier on Thursday to discuss a fixed link and mining-related investment.
The $266,000 study, completed by consulting company Hatch and the Harris Centre at Memorial University, was announced in 2016.
Yankee Point to Point Amour
The study recommended using a single-tunnel boring machine to drill from Yankee Point on the Northern Peninsula of Newfoundland to Point Amour in southern Labrador — a distance of about 16 kilometres.
Both points are remote. Yankee Point is located between the small Newfoundland towns of Flowers Cove and Savage Cove, about two hours by car from the L'anse aux Meadows National Historic Site. Point Amour in southern Labrador is about an hour from the Red Bay National Historic Site.
The tunnel would use a shuttle train to carry nearly 400 vehicles at peak hours, with a single train going back and forth between the two linkage points.
Such a tunnel would not only replace the Strait of Belle Isle ferry service that currently runs between northern Newfoundland and southern Labrador, but also 60 per cent of the traffic from the Cabot Strait ferry service between southwestern Newfoundland and Nova Scotia, the study found.
The Strait of Belle Isle ferry currently takes just over an hour to run from St. Barbe in Newfoundland to Blanc Sablon on the Quebec side of the border with Labrador.
It takes nearly 10 hours to drive from St. John's to St. Barbe, and just over six hours from Port aux Basques, where the Cabot Strait ferry currently docks in Newfoundland.
The drive to Blanc Sablon from Quebec City is 29 hours, and involves a short ferry ride in Quebec.
"This is not about replacing Marine Atlantic," Ball said. "This is about benefiting all of Newfoundland and Labrador."
Labrador MP Yvonne Jones, a strong proponent of a fixed link, said the provincial government is showing "tremendous vision and insight" with this study.
The pre-feasibility study marks "a very significant step" in terms of how we move forward with "connectivity to each other," said Jones, who added that the federal government is paying attention to the direction Newfoundland and Labrador takes on this issue.
Decades of discussion
The idea of a transportation link between Newfoundland and Labrador has been examined by several provincial governments. A hole on the Labrador side of the Strait of Belle Isle was dug in the 1970s. In 2005, the Danny Williams government said a link would cost close to $2 billion. It chose not to pursue the idea further.
The costs and recommendations from this most recent study were similar to those from a study done in 2004, but experts said they now know much more about drilling and the challenging geology below the Strait of Belle Isle.
The 2004 study estimated a cost for a fixed link at $1.44 billion, with a completion time of 12 years.
The next step in the process would be a formal feasibility study, Ball said, which could cost up to $23 million. The premier said there is no timeline on a decision about that.