'You've heard of the crazy cat lady. I'm the other side of the fence,' says Kim Taylor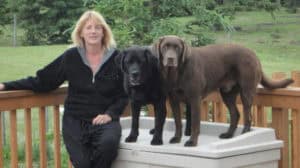 Every time Kim Taylor tracks down another lost dog, she always thinks of her own.
Her chocolate brown lab, named Ryley, went missing one day in the woods without a trace more than five years ago. Taylor learned to track dogs, and when she couldn't find her own, she channelled her heartbreak into helping other pet owners.
"Every time I bring one back alive and safe, honestly, after I leave I have a little tear because I wish it was Ryley. I always wish it was him," Taylor said.
"But I'm happy. I'm relieved because it's kind of a legacy. It's kind of a lemons-to-lemonade moment."
Taylor lives in the rural Alberta town of Sundre, about 100 kilometres northwest of Calgary, in the foothills of the Rocky Mountains. She's become adept at navigating the variety of landscapes in the area, sometimes tracking a dog for six months at a time.
"You've heard of the crazy cat lady. I'm the other side of the fence," she said.
When Taylor's on a new case, she packs up her truck with a heat-sensing drone, a quad, a pet-tracking dog and traps. She'll walk in 10 kilometre grids through fields and woods, wade in streams and hike mountains.
"Sometimes we can use the quad but most times you need to go on foot because you have to be moving like a ninja, so you don't frighten the dog further," she said.
She knows how to tell if prints or feces are fresh and what they say about the dog's health.
"It's not a glamorous job but now here I am, over five years later," Taylor said. "I've reunited dozens and dozens and dozens of dogs."
Taylor has made such a name for herself in Sundre as a dog detective that she's routinely flooded with lost dog ads and often must partner with local rescues and volunteers for bigger searches.
Dogs that get lost are often spooked from loud noises by gunshots or fireworks, she said, or are left in unfenced yards and go exploring. Smaller ones can be attacked by predators.
Taylor found one dog that had been "rag-dolled" by a bigger animal. She took it to surgery at a local veterinary clinic.
"He made a full recovery — and this was like a five-pound dog. It's amazing what animals can put up with when they're lost," Taylor said.
Other searches end more tragically.
"I always bring back something to show the owners that the search is off," she said. "That is, for me, the worst when I have to come back with remains, or less than remains."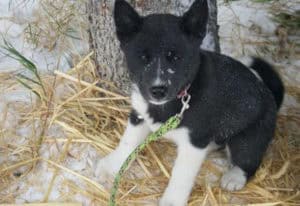 But she says to never give up on your lost dog. Animals have instincts to survive in the wild, even in the winter, whether you have "a three-pound Chihuahua or a 140-pound dane."
Clinton Leussink thought he'd lost his five-month puppy for good this winter, when he connected with Taylor. She explained how best to track the Karelian bear pup. They found Tika, who had a hurt paw.
"[Taylor] was happy. You could tell she was just satisfied," Leussink said. "We were reunited and that was all that mattered to her."
Taylor wouldn't take any money, Leussink said, but she said she does take payment for her services for longer searches or to cover gas. She said she knows people don't have a lot of money but care a lot for their pets.
Regardless, she said she sees herself tracking lost dogs for years to come.
"It's just so horrible we had to lose our boy to put myself on this path, but if that's what it took to get all these dogs back home, then OK," she said. "It's the only way I can settle it in my heart."