Investors have been waiting for over a year to see signs that a turnaround was building at Nike (NYSE: NKE). And last week they got their strongest indication yet that this much hoped-for change was imminent. The sports apparel titan revealed a surprisingly strong profit performance in the fiscal third quarter while forecasting an end to its inventory struggles in the key U.S. market.
CEO Mark Parker and his team held a conference call with analysts during which executives explained their reasons for issuing that optimistic outlook. Below are a few highlights from that presentation.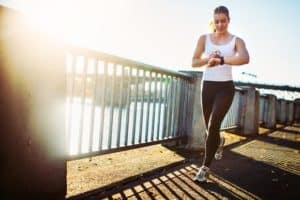 Beating expectations
We exceeded the revenue and gross margin expectations that we set 90 days ago fueled by an unprecedented flow of new products and innovation platforms that we'll scale over time.
— CFO Andy Campion
Nike's top-line sales growth held steady at a 3% uptick to edge past management's target. Profitability, meanwhile, continued its slow march toward an eventual rebound. Gross profit margin shrank by just 0.7 percentage points compared to a 1.2 percentage point decline in the prior quarter and a 1.8 percentage point drop to kick off its fiscal year. In comparison, rival Under Armour's (NYSE: UA) (NYSE: UAA) gross margin fell by 1.5 percentage points over the holiday season, or slightly worse than its 1.4 percentage point decline for the full 2017 year.
Stabilizing business in the U.S.
While North America declined 6% for the quarter, we expect that the momentum will now reverse the trend.
— Campion
Sales trends worsened slightly in the U.S. market for the quarter. However, executives said the end of the period marked a "significant turn" in demand. This positive shift, combined with Nike's progress at whittling down retailer inventory, has finally returned the segment to a healthy sales position.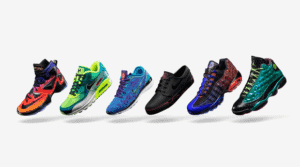 As a result, the company predicts no revenue decline in the fiscal fourth quarter and a return to growth beginning in the second half of fiscal 2019.
China speeds up
China not only continues to lead Nike in terms of the pace of growth, but also in terms of executing the Consumer Direct Offense.
— Campion
Nike's global sales footprint has helped it weather the U.S. downturn better than peers like Under Armour, which counts on the domestic market for over three-quarters of its revenue. And China was once again the big standout within that international division. Sales growth shot up to a 19% pace from 15% in the prior quarter and profitability improved as earnings jumped 30%. Executives believe there's plenty of room for more gains ahead and that success here is proof that its shift toward direct-to-consumer sales will pay big dividends over time.
Looking ahead to 2019
We remain confident we will deliver on the growth and profitability expectations that we have previously communicated.
— Campion
Nike confirmed its fiscal 2018 outlook and said sales growth will stay in the high-single-digit range in the current quarter. Executives said gross profit margin will be flat or up slightly, which would mark the first time in over two years that this metric didn't tick lower.
Looking further out, management sees a "strong" profitability increase in fiscal 2019 and accelerating revenue gains as the U.S. market returns to growth. That forecast is consistent with the long-term outlook management issued in late October and indicates their turaround plan is coming along as well as investors could have hoped, given the challenging retailing environment.