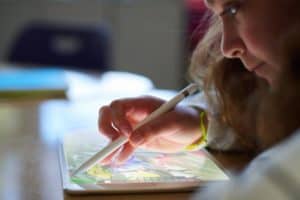 On Tuesday, March 27, Apple held its education-focused event in Chicago at Lane Tech College Preparatory High School where the company unveiled a more affordable 9.7-inch iPad. To push for use of the iPad within the classroom, Apple also launched a wide variety of new educational resources.
From apps and updates to products, we rounded up all of Apple's new education initiatives.
iWork with Apple Pencil
Since the new 9.7-inch iPad comes with support for Apple Pencil, Apple's iWork suite — which includes Pages, Keynote, and Numbers — has been updated to include more features. You will be able to draw, write, or sketch with the Pencil within each of the productivity apps. Using both Pages and Keynote, users will be able to add drawings into their reports and can now write in Numbers when creating lab reports.
Currently in beta mode, Pages also includes a Smart Annotation feature allowing teachers to add comments within documents in real time — which will anchor to specific text. The app will also receive a book creation feature — available for both iOS and macOS — where users can create digital books like short stories or travel books. To create a book, you will be able to use different templates in addition to iWork's new drawing tools or images and videos from the Photo library. Classmates can collaborate on books in real time using either the iPad, iPhone, Mac, or iCloud.com and the finished product can then be exported and shared in iBooks.
Another feature in Pages is Presenter Mode which allows you to use your iPad or iPhone as a virtual teleprompter. Not only can the text auto scroll at an adjustable speed, but you will be able to customize text size, spacing, font, or background color during playback.
Swift Playground adds augmented reality feature
In 2016, Apple introduced its Everyone Can Code program which teaches kids how to code via its Swift Playgrounds app. The programming app now incorporates augmented reality using Apple's ARKit technology. Students can now program an animated character into their game and place it within their physical space using the iPad's camera.
Apple is incorporating AR into everyday lesson plans as well. For example, a new ARKit app called Froggipedia will allow students to dissect a virtual frog using the Apple Pencil stylus. Another app like Free Rivers by the World Wildlife Fund will help teach students about protecting rivers, as well as preserving communities and protecting habitats.
Everyone Can Create curriculum
Everyone Can Create is a free curriculum developed with the help of creative professionals and educators. The program offers a range of free learning resources and teaching guides that allows students to find different ways to express themselves and discover or develop new skills.
Using the program, teachers can find ways to integrate music, drawing, filmmaking, and photography into topics or assignments. Aside from lessons and student guides, the program also includes ideas and examples to help incorporate creativity into already existing core subjects like English, math, science, and history. Starting later this spring, Apple Stores will be teaching the curriculum as part of its regular Today sessions for educators.
New ClassKit framework and Schoolwork app integration
Integrated into Apple's Classkit — its new developer framework meant specifically for creating educational apps on iOS — Schoolwork is a new app that makes it easier for teachers to complete tasks such as creating assignments. With a Handouts feature, the app allows teachers to create and send assignments to students that include anything from web links to documents and PDFs. Schoolwork can help to incorporate more apps into the curriculum as well. Teachers will be able to assign an activity within an app and then direct students to the specific point within that app.
As far as student progress, it also gives teachers the ability to check up on how a student is doing — they will be able to see a student's overall class performance, check on students' app activities, and progress on assignments. But Apple made it clear that all student data will be private, and that only teachers will have access to the information. Schoolwork will officially launch in June, giving educators plenty of time to get the hang of it before the new school year starts.
Logitech Crayon and Rugged Combo case
To accompany the new 9.7-inch iPad, Logitech announced the Logitech Crayon stylus and Logitech Rugged Combo 2 case. The Crayon — which is priced at $50 — is the first digital pencil designed for the new iPad — which includes low latency and support for tilt. It works with a large number of apps, including Apple's newly updated Pages, Keynote, and Numbers apps along with Microsoft Office. Since it has an eight-day battery life, it should be able to last students throughout the entire school day on a single charge. It will also connect to the iPad automatically, so there is no need to go through the process of pairing it.
The Rugged Combo 2 case is designed to sustain daily wear and tear within the classroom. It can protect against drops from up to four feet, has a secure-sealed design that is spill-resistant, and includes a detachable keyboard that is pry-resistant with silent keys. It also has a kickstand that you can adjust to comfortably type or write notes, use apps, and watch videos. As for price, the case will run for $100.
Upgraded Apple School Manager Program
With the Apple School Manager program, administrative IT officials are able to create accounts for students and staff, manage devices, and buy content. Apple announced the program will now allow administrators to create profiles either individually or in bulk — with the ability to create up to 1,500 Apple IDs at once. It will also include 200GB of cloud storage, which is an upgrade from the 5GB available before.