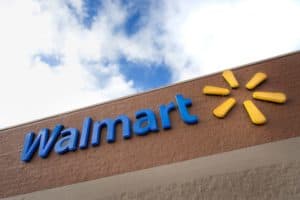 Decades after they revolutionized the manufacturing industry, robots are now making their way to the service industry. PCMag has reported that Walmart is planning on using robots to automate certain mundane tasks.
The world's largest retailer said it hopes to use automation to "handle tasks that are repeatable, predictable and manual, like scanning shelves for out-of-stock items, incorrect prices, and wrong or missing labels."
The company says that this technology will free up the retailer's employees to "focus on what they tell us are the most important and exciting parts of working at Walmart — serving customers and selling merchandise."
Walmart's initial experiment has proven a success for the company, and the fleet of robots has been expanded to 50 stores across four states. While the retail juggernaut does admit that the robots are more efficient at certain tasks than humans, it also said that efficiency is not the main driving force behind this project.
"This has largely been about how we improve our performance and improve our service to our customers," Walmart's VP of innovation, John Crecelius, told Business Insider.
Ultimately, Walmart is hopeful that this new technology will make things more convenient for consumers by ensuring that products are always in stock and prices accurate. Efficiency may not be Walmart's stated goal, but it is hard to argue that robots aren't more efficient at certain repetitive tasks. Overall, the company says that these machines are 50 percent more productive and three times faster at scanning shelves than humans.
"This combination of people and technology is helping make our stores more convenient and easier to shop, ensuring that products are available when our customers want them," the company wrote.
As convenient as this might be for consumers, there are concerns that these machines might one day replace the company's human employees. For now, however, that doesn't appear to be the case. Jeremy King, the company's CTO, has said that the company is not planning on cutting any jobs due to these machines. King says that the tasks these machines are meant to accomplish are ones that humans find boring.
King's assurances aside, there are legitimate reasons for people to be concerned about the impact of automation on the job's market. It's hard to argue that automation hasn't reduced the number of people employed in the manufacturing sector.
Despite these fears, Walmart's recent statements indicate that employees have embraced these robots. The company reports that its employees have found uses for the machines that corporate had not thought of. Some employees have even gone so far as to give the robots names and a name tag to wear.
"That's usually a good sign," Crecelius said. "It usually happens when they feel like something is helping them or making a meaningful difference."
Walmart isn't the only service-oriented company experimenting with automation. McDonald's recently experimented with replacing cashiers with kiosks that can take orders and payments from customers without making them stand in line. As with Walmart, McDonald's has promised that these machines are not meant to be a replacement for any human workers.
Updated on March 25: Updated to reflect Walmart's recent comments regarding the expansion of its fleet of robots.