20 elders speak at Regina conference, put on by the First Nations University of Canada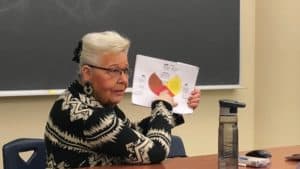 The First Nations University of Canada held its second annual elders' conference over the weekend to bring attention to the importance of Indigenous education.
About 20 elders from Cree, Saulteaux, Dene, Métis, Dakota, Lakota and Nakoda communities presented at the two-day conference to share knowledge, stories and practices.
Armand McArthur from the Nakoda Nation talked about the seven sacred teachings, the sacred number four, the law of the land and sun dance ceremonies.
"One time it was taboo to talk about the sweat lodge in the classroom or taboo to talk about the sun dance," McArthur said. "My belief is that it has to be taught in the classroom in order for it to survive. Your culture, your language…everything. It's very important for our young people."
McArthur worked for the Southeast Cornerstone School Division for eight years and now teaches the Nakoda language at FNUniv. It's a language he described as dying out, with less than 100 fluent speakers.
"It's going to be extinct in the next ten years, maybe," he said. "If we can continue to push it, then hopefully it will not die."
McArthur said he himself is running out of people to converse in Nakoda with, even on the reserve he is from.
"My language is just about totally gone up there. I'm the last one trying to hang on. Hopefully I can gain some footing."
Passing on the Dene language
Margaret Reynolds, from English River First Nation, spoke on Saturday about the sacred way of life and the medicine wheel.
Reynolds said more young people need to learn in organic ways, rather than from books.
"The hands-on, Indigenous way of educating our youth is so important," she said. "They need to relearn their culture and their language."
The elder said she spent 20 years teaching her native language, Dene, at the First Nations University in Saskatoon and at her home reserve. Dene is spoken most frequently in the northern Saskatchewan communities of Fond Du Lac, Stony Rapids and Black Lake, according to the Saskatchewan Indigenous Cultural Centre.
"Other languages are becoming extinct, so we have to reawaken those ones and help them and support them so the children and the grandchildren of those tribes will be able to learn and understand it," said Reynolds. "It's frightening sometimes."
Reynolds said the Ministry of Education in Saskatchewan is putting more of a focus on Indigenous education, something she is happy to see. She also commended FNUniv for bringing elders together to pass their knowledge along.
"All of the stories, all the richness and the culture and the language that they bring to the students here, and they just love it. It's just like a big family here," she said.
"It makes me so excited and just bubbly when I see those students smiling and it's so important."