Gregory Lui used pollutants in wastewater from local breweries to create power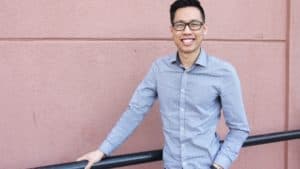 In just three minutes and using only one slide, Gregory Lui laid out his plan to convert pollutants in wastewater into electricity.
Lui won the annual three-minute thesis competition at the University of Waterloo Wednesday afternoon for his talk on how to use photocatalysts to clean up wastewater.
He had the help of local breweries that gave him wastewater for him to test in his system.
He noted wastewater is everywhere and has to be treated.
"To be able to get electrical power out of that same process, I think if we can actually develop a technology in the industry for that, that would be an amazing thing," Lui told CBC K-W's The Morning Edition host Craig Norris Thursday. Norris also served as a judge for the competition.
There were 14 presentations with Lui coming out on top.
"It was a lot of work getting here," he said, noting he presented two years ago as well.
"I'm just happy that the judges were impressed with my talk."
Lui is completing a scientific paper on his research and plans to graduate with his PhD this year.
But before that, he will attend the provincial Three Minute Thesis competition at York University in Toronto on April 19.