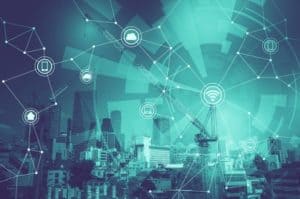 Fifth generation (5G) is the next step in the evolution of mobile wireless technology, promising faster speeds, better coverage, and lower network energy consumption. With most smartphones currently running on 3G or 4G networks, 5G deployment is still at least a couple of years away. Tech companies are starting to prepare for what will be the key to powering fast data speeds required by the Internet of Things (IoT) and self-driving cars.
Skyworks Solutions (NASDAQ: SWKS), Intel (NASDAQ: INTC), and Cisco (NASDAQ: CSCO) could be among the early beneficiaries of 5G technology thanks to their product development moves in this space. Let's look at how they are preparing and how they could benefit.
Skyworks Solutions
Skyworks Solutions provides radio frequency chips to enable wireless connectivity in smartphones and other devices. It could have a key role in the 5G era through its connectivity modules that support the new standard, and the company is making an early move in this space.
In January, Skyworks announced its Sky5 family of solutions to support 5G wireless communications across the mobile and IoT ecosystems. The chipmaker revealed more details about this new product family in late February, launching its first batch of Sky5 chips to enable 5G connectivity. The company's initial product launches include power amplifier and diversity receive modules that should address the mobile market, as well as a front-end module for powering cellular vehicle-to-everything (V2X) connectivity.
Skyworks plans to release these chips in late 2018, a clear indication that it wants to be an early mover in 5G technology. If the chipmaker enjoys an advantage in 5G chips aimed at smartphones and vehicular connectivity, it could win big.
CCS Insights estimates that smartphones will account for the majority of 5G adoption through 2025, representing 99% of total 5G connections. In all, there will be 2.6 billion 5G mobile connections by 2025, and there will still be a lot of room for growth, as this number will account for one in every five mobile connections.
This massive spurt in 5G connections will enhance the addressable market for Skyworks' 5G chips, as they will be necessary for smartphones to connect to the next-generation network. On the other hand, the V2X connectivity market is expected to log 17.6% annual growth through 2025, according to one estimate. Skyworks is attacking the right areas to stay on top of the 5G rollout.
Intel
Chipmaker Intel is taking a different route to tap 5G's potential. Chipzilla recently announced its plan to launch 5G-equipped laptops by the second half of 2019, just in time for the 5G rollout, using the 5G modem that was unveiled last year.
Intel has already showed off its 5G concept laptops — powered by the 5G-ready XMM 8000 series modem — at the Mobile World Congress in Barcelona, Spain, this year. More important, it has brought on original equipment manufacturers like Dell, Lenovo, Microsoft, and HP to build devices using its modem so they can be launched in time for Christmas next year.
Research firm Gartner estimates that the PC market will return to growth this year and sustain the momentum in 2019. The launch of new, faster laptops based on Intel's modems could give current users a good reason to upgrade, allowing Chipzilla to boost its processor sales as PC shipments could hit 267 million units next year.
This isn't the only way Intel is going after 5G. A few days ago, the chip giant announced that it is collaborating with Chinese company Spreadtrum to develop a 5G smartphone platform for the Chinese market — a smart move by Intel as 5G network deployments in China could begin very soon.
Intel will fuse its experience in making modems with Spreadtrum's expertise in chipset design to create a high-end 5G smartphone solution to power Android devices. This platform could be commercially launched in the second half of 2019, and help Intel get ready for the massive jump in China's 5G connections.
CCS Insights estimates that China will lead the rollout of 5G technology, and account for more than half of global 5G subscriptions.
Cisco
As a supplier of networking equipment to telecom companies around the globe, Cisco will become a key enabler of 5G technology. At the Mobile World Congress, Cisco announced the launch of its "5G Now" suite of solutions in pursuit of the rapid expansion of 5G devices.
Cisco believes that 5G connections will grow from 2.3 million in 2020 to at least 25 million in 2021. The company's 5G Now portfolio will give service providers and mobile providers the access to the key elements needed to enable 5G connectivity using a single platform, covering various aspects such as security, cloud connectivity, and new routers to expand network capabilities.
Twenty service providers and mobile operators are already using Cisco's platform to boost their 5G plans. It won't be surprising if Cisco attracts more service providers onto the 5G Now platform because it believes that 85% of 5G services can be delivered over existing wireless technology and infrastructure.
This is where 5G Now will come into play. The platform is designed to help service providers deliver the experience of a 5G network to customers before the eventual rollout happens, and this will be enabled through Cisco's services, infrastructure, and automation tools.
In the end, all three companies are going hard after the 5G opportunity. But investors shouldn't expect quick gains — network deployments are still at least a year away. But Cisco, Skyworks, and Intel could eventually win big, given their early moves.