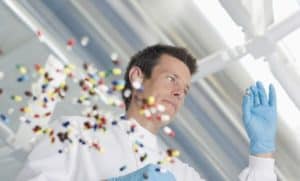 The stock market gave up ground on Tuesday as investors reacted negatively to initial testimony from new Federal Reserve Chair Jerome Powell that suggested the central bank might seek to raise short-term interest rates more quickly than some had anticipated. Major benchmarks fell more than 1% on the news, giving up only a portion of their gains from the past several trading sessions. Moreover, some stocks managed to post solid advances despite the downward pressure on the overall market. Mallinckrodt (NYSE: MNK), Tenet Healthcare (NYSE: THC), and AES (NYSE: AES) were among the best performers on the day. Here's why they did so well.
Mallinckrodt moves forward
Shares of Mallinckrodt jumped 15% after the drug company reported its fourth-quarter financial results. The drugmaker said that net sales fell almost 5% compared to the previous year's quarter, but CEO Mark Trudeau highlighted the progress that Mallinckrodt has made in seeking to focus itself more squarely on specialty pharmaceuticals. By going beyond its generics business, Mallinckrodt hopes to be able to tap into innovation in the pharmaceutical industry, and the company outlined further efforts it plans to take in 2018 that made shareholders excited about the future. Given the pressure that it has felt from balance sheet concerns and competitive forces in the industry, the report came as good news for Mallinckrodt.
Tenet heals itself
Tenet Healthcare stock climbed 9% in the wake of the company's fourth-quarter financial report. The hospital operator said that revenue moved higher by a larger margin than most had expected, and despite one-time charges, adjusted earnings were strong. Better Medicare reimbursement rates led the company to boost its fiscal 2018 projections for earnings, and it's evident that efforts that Tenet has taken to try to make itself more financially efficient are paying dividends. Concerns remain for the for-profit industry as a whole, but today's results at least allayed immediate fears about Tenet's standing among its peers.
AES powers up
Finally, shares of AES picked up more than 7.5%. The power generation and distribution business said that 2017 earnings climbed roughly 15% on an adjusted basis for the full year, pointing specifically to the company's strategic business unit in the Mexico, Central America, and Caribbean region. AES made huge progress over the past year in making a transition in its energy sourcing, replacing 4.3 gigawatts of coal-fired capacity with 2.3 gigawatts of acquisitions of renewable energy. Favorable expectations for 2018 and future years were also met with a positive response from shareholders, and AES is doing a good job of staying on the cutting edge of the power industry.