Canadian athletes land at YVR following a historic Olympics for Canada in Pyeongchang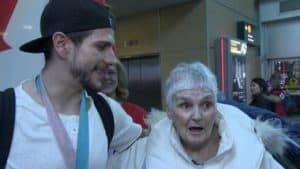 Eleanor Johnson knew she had some early mornings ahead of her when she found out her grandson, Gilbert Brule, would be competing in Pyeongchang.
Like any true sports fan, the 84-year-old woke up before sunrise to watch Brule and the rest of Canada's men's hockey team ultimately win bronze.
"Grandma supported him since he was a little boy — always supported him," said Johnson, who embraced Brule as he returned home.
Just days removed from the 2018 closing ceremonies, Johnson was among the proud throng of friends, family and fans who took over YVR on Monday, welcoming the first wave of Olympians returning home from their record-setting competition in Pyeongchang.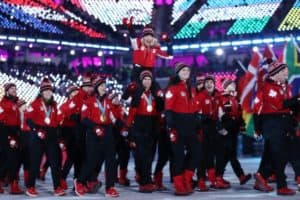 'It was pretty special'
The bronze medal might not have been Brule's first choice — but it was still one he was happy to share with his family.
"It was tough," said Brule, acknowledging Team Canada's loss to Germany in the men's hockey semifinals. "But to come back and finish with some hardware — it was pretty special."
The women's hockey team also left Pyeongchang without the gold for the first time since the 1980s, falling to the Americans in the gold medal game.
After the initial sting of defeat, Team Canada regular Meghan Agosta said their performance was still one to be proud of.
"I'm so proud and happy of every single one of those girls in that locker room," said Agosta. "We ended up making that one little mistake there in the third that kind of cost us, but we should be proud of what we've done. We've had an amazing journey."
Gold lands in B.C.
Eleven gold medals headline Canada's latest Olympic haul.
Vancouver Island freestyle skier Cassie Sharpe was among those victors, earning a spot atop the podium in the women's halfpipe event.
"It's incredible," said Sharpe, whose Olympic dreams took form after watching the halfpipe event in Sochi. "Everybody from Canada [is] so proud of you … everybody all of a sudden knows you."
"It feels even better to hold [the gold medal] on Canadian soil. It feels good bringing it home."
And while one might expect her to take some well-earned rest following her gold-winning effort, the slopes are still calling.
"I'll be going home to the Island as soon as I can, go see some friends and family … and go check out Mount Washington [to] get a couple pow-turns before the season's over."