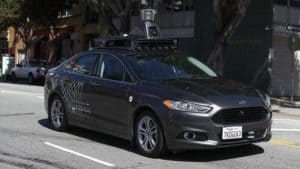 It's the Wild West on California roads.
On Monday, the state Department of Motor Vehicles announced it will allow autonomous cars on public roads without an approved driver.
That means cars with no one in the driver's seat can start being tested and driven throughout the state once the regulations go into effect April 2. A remote "driver" far from the actual vehicle can be in control.
Once the new rules are implemented the DMV can start issuing permits to autonomous car companies, like Uber, Waymo, Tesla, and other big players in the race to put autonomous vehicles on the road.
An Uber spokesperson said in an email about the DMV changes, "This is a significant step towards an autonomous future in the state, and signals that California is interested in leading by example in the deployment of autonomous vehicles."
But Uber did note that the new rules only apply to cars and not trucks, which is another competitive area in self-driving technology.
For self-driving cars, testing regulations first went into effect in September 2014. Since then 50 companies have been permitted to test driverless cars — but with a driver in the vehicle, according to the DMV. That same permit will still be available but now companies can also apply for the fully driverless permit.
The fully autonomous testing has been years in the making, and now it's on track to happen.
Buckle up.