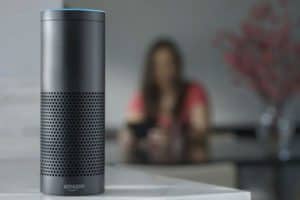 Do you love Alexa but think the voice assistant from Amazon responds too slowly sometimes? Amazon is working on a fix for that, according to an exclusive report from The Information. The online marketplace giant is designing its own artificial intelligence (A.I.) chips that would add speech recognition directly to Alexa-powered devices and allow the voice assistant to respond more quickly. The goal is for the hardware to be built into any device that features Alexa, including the Amazon Echo, Echo Dot, and Echo Plus.
As users of Alexa-powered devices may have noticed, there is a small delay between making an inquiry or request and getting a response from Alexa. That's because the voice assistant must contact the cloud and interpret the command before it is able to formulate a response. By processing more data on the devices rather than in the cloud, the devices should theoretically be able to formulate a reply more speedily and operate more efficiently overall. While the device will still have to contact the cloud for more complex requests, the addition of speech recognition would eliminate the delay in simple tasks, such as reporting the time.
In 2015, Amazon acquired chip designer Annapurna Labs. The company is now producing A.I. chips that specifically suit Amazon's own hardware needs. Amazon is also currently in the process of hiring chip engineers for Amazon Web Services, which suggests that the company may be introducing its own proprietary chips for that department as well.
The news of yet another tech giant embarking on its own A.I. chip creation poses a threat to companies like Nvidia and Intel. Both companies specialize in manufacturing chips and have shifted much of their expertise to the creation of A.I. chips. Now, many of their former customers are becoming their competition.
Amazon is not the first major company to produce its own A.I. chips in hopes of elevating its products above those of the competition. The Mountain View, California-based Google currently uses its own chips to support features like Street View, Translate, and Search. Silicon Valley tech giant Apple has also designed and deployed custom A.I. chips in its own products.