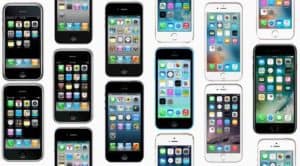 According to a new report from KGI Securities analyst Ming-Chi Kuo (via MacRumors), Apple (NASDAQ: AAPL) plans to source the cellular modem chips that will power its upcoming iPhone models exclusively from chip giant Intel (NASDAQ: INTC).
Apple had sourced cellular modems from Qualcomm (NASDAQ: QCOM) for the iPhones that launched between 2011 and 2015, but added Intel as a second source with the release of the iPhone 7 series in 2016. Apple continued its practice of dual-sourcing cellular modems with the 2017 iPhone models.
The modem that will reportedly power Apple's upcoming iPhones is Intel's XMM 7560. The XMM 7560 includes support for cellular networks that support the CDMA wireless standard. CDMA support is a critical addition that makes it possible for Apple to even consider using Intel as a sole source for cellular modems.
Let's go over the implications for both Intel and Qualcomm if this report is true.
Another surge in Intel's cellular modem business
Today, Intel is believed to have minority modem share in Apple's iPhone 7 series, iPhone 8 series, and iPhone X smartphones. It currently has no share in Apple's iPhone 6s series smartphones, nor in Apple's lowest-cost iPhone SE model.
If it's true that Apple will use Intel's XMM 7560 exclusively in all of the new iPhones that it introduces later this year, then this should mean significant cellular modem revenue growth for Intel by virtue of share gains in the latest iPhone models. That revenue growth should kick in during the second half of 2018 and persist through the current iPhone product cycle.
Additionally, since Apple's iPhone 6s models are likely to be discontinued in the coming product cycle while the iPhone 7 series and iPhone 8 series seem likely to remain as the lower-cost options in Apple's lineup, Intel should gain some share at the lower end of Apple's lineup.
Finally, while Kuo cites Intel's competitive pricing as a reason that it was able to sweep the 2018 iPhone modem orders, I think that Intel's XMM 7560 — by virtue of its improved competitiveness compared to Intel's prior modems — will sell for more than what the company's previous modems did. A potential increase in average selling prices could help not just Intel's revenue but profitability as well.
Uncertainty around Qualcomm's stand-alone modem business
In the near term, Qualcomm should still sell cellular modems to Apple for the older, discounted models. Qualcomm is certain to suffer a large drop in its stand-alone cellular modem sales, but sales won't go to near-zero — yet.
Stand-alone modem sales to Apple don't make up the bulk of Qualcomm's chip revenue, but I'd imagine that the annual revenue from such chip sales to Apple is still solidly north of $1 billion (assuming 130 million chip shipments per year at an average price of $15). Losing this revenue won't cripple Qualcomm, but it'll definitely sting.
Longer term, the viability of Qualcomm's stand-alone modem business will depend on its ability to win back share at Apple, since Apple is the only major smartphone vendor left that still uses stand-alone modems.
MacRumors' dissemination of Kuo's note did contain the following tidbit: "Kuo added that it's too early to tell if Intel will be able to maintain its position of exclusivity in the future, as Apple typically prefers to diversify its supply chain. He adds that Apple may give orders to Qualcomm again in exchange for concessions in the ongoing lawsuit between the two companies."
If Qualcomm can win back orders in future iPhone models, then that'd probably be enough to keep Qualcomm's stand-alone LTE modem business going. If it can't, then I'd expect Qualcomm to reduce its investments in such chips and focus even more on building integrated cellular modem and applications processor parts.