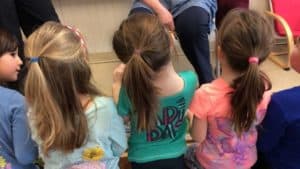 Substitute teacher Marie McGaugh witnessed a remarkable act of kindness last week in her kindergarten class at Souris Regional School.
It happened during the morning "circle time" when students were gathered at her feet on a round carpet decorated with the ABCs.
McGaugh said one little child in the circle looked at another and, meaning no harm, said, "Your shirt is on backwards."
Everyone turned to look at the little girl with the backwards shirt. Some kids started to laugh.
The little girl put her head down and turned red with embarrassment.
McGaugh said she decided to use the moment to gently talk to the kids about how embarrassing someone could hurt their feelings.
As she spoke, she saw one little child in the circle quietly took her arms out of her sleeves and turned her own shirt around.
Then, one by one, more children did the same.
Within minutes, almost every child in the class was sitting with their own shirt on backwards.
"I just thought it was so caring and just so pure-hearted, they didn't want her to feel bad," McGaugh said. "And not a word was spoken. It was their actions that were just so powerful."
The little girl who had made the comment in the first place was one of the first kids to twist her own shirt around to be supportive of her friend.
'Golden moment'
"It was just one of those golden moments where they taught me, I didn't teach them, they taught me… I was blessed to witness it," McGaugh said.
Five-year-old Charley O'Keefe, the girl who was initially singled out for having her shirt on backwards, said she was touched by her friends' kindness: "I felt happy and good."
Charlotte Garrett, also five, was the first child to turn her shirt around that day.
She said the reason she did it was simple ­– "I didn't want Charley to feel sad … so she could be happy again."
Cathy O'Keefe, the children's regular kindergarten teacher, wasn't surprised to hear how the children supported their friend. She said her class has a lot of empathy for each other.
'Higher level of thinking'
"It's really a higher level of thinking for them to go right to turn their shirts around, because some kids might have just stopped laughing, but not do that," she said. " But they went up to the next level and they thought this will make her happy and they all did it. Which makes me very proud of them."
The children kept their shirts on backwards for the rest of the day.
It was a silent but strong show of solidarity for their friend and one that left a lasting impression on McGaugh.
"It just reminds you of what it is like to be sensitive," she said. "We all get desensitized because you see things on the news that you would never have seen years ago. And these guys, they're pure, they're genuine.
"They give you hope."