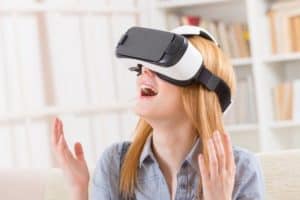 Wal-Mart's (NYSE: WMT) tech incubator, Store No. 8, recently acquired virtual reality start-up Spatialand, which will develop new virtual reality (VR) products for the retailer's stores and websites. Spatialand, which collaborated with Store No. 8 on another VR project last year, makes software tools that help creators turn existing content into VR experiences.
The terms of the deal and details about upcoming projects weren't disclosed. Katie Finnegan, who has been overseeing Store No. 8, will serve as Spatialand's interim CEO as about ten of its employees join Wal-Mart.
Wal-Mart launched Store No. 8 last year to expand its tech capabilities against online behemoths like Amazon.com (NASDAQ: AMZN), so investing in the VR market wasn't surprising. However, some evidence suggests that consumers aren't quite ready for VR shopping experiences yet.
Alibaba and Amazon have been down this path before
Two of Wal-Mart's biggest e-commerce rivals, Alibaba (NYSE: BABA) and Amazon, have dabbled with VR shopping. In late 2016, Alibaba launched a VR shopping app called Buy+, which let headset-wearing shoppers purchase products by gazing at them on store shelves.
About 8 million people downloaded Buy+ in the week after Singles' Day (Nov. 11) that year, China's equivalent of Black Friday. That wasn't a bad start, but it still represented a tiny percentage of the 488 million active consumers who use Alibaba's e-commerce sites. Most consumers likely found it easier to simply buy products through Alibaba's websites and apps.
Last year, Amazon put out a job listing for a senior software development manager who could "lead the development of a completely new VR shopping experience at Amazon."
But instead of launching something similar to Alibaba's Buy+, Amazon pivoted toward augmented reality (AR) instead. It joined the list of retailers using Apple's ARKit software development kit for AR apps, added a new AR feature for its iOS app that virtually places objects in a shopper's home, and bought Body Labs, which develops a 3D body-scanning technology that could eventually allow users to try on virtual clothes.
Amazon's decision to pivot from VR to AR was likely caused by the tepid market response to VR headsets, which remain niche gadgets for gamers and tech enthusiasts. Mainstream consumers also seem dismissive of VR shopping apps — in Walker Sands' 2017 Future of Retail study, only 13% of consumers stated that VR experiences would make them shop more in physical stores.
What's Walmart's play?
It's unclear what Wal-Mart will do with Spatialand. It might make a VR shopping app like Alibaba's Buy+, but it probably won't reach enough shoppers to make a meaningful impact. It might collaborate with Facebook Spaces, which lets users visit each other in virtual reality to develop "social shopping" experiences.
Wal-Mart could also pivot from VR to AR to add features similar to Amazon, or work with Microsoft to produce AR shopping experiences for its Hololens AR headset.
Store No. 8's other projects include a personal shopping service and the development of a cashierless store similar to Amazon Go, which is being led by Jet.com co-founder Mike Hanrahan. Wal-Mart bought Jet.com for $3.3 billion back in 2016 to bolster its online presence against Amazon.
Whatever Wal-Mart plans to do with Spatialand, investors probably won't see the results until years later. Store No. 8's Finnegan previously stated that her group focuses on retail experiences that might not go mainstream for another five to ten years.
What should investors focus on?
Store No. 8 isn't Wal-Mart's first effort to expand its tech ecosystem. Back in 2011, Wal-Mart bought Kosmix, a social media firm focused on e-commerce, and renamed it @WalmartLabs.
@WalmartLabs developed an internal search engine called Polaris, which optimized product searches across its sites, and acquired over a dozen smaller tech companies to improve the location, social recommendation, customer engagement, and price comparison features in its mobile app.
Wal-Mart also launched its own mobile payment platform, Walmart Pay, to keep tabs on customer purchases. The company is also aggressively matching Amazon's prices and free delivery options, while using its massive network of brick-and-mortar stores as fulfillment centers for online orders.
While Wal-Mart's purchase of Spatialand is noteworthy, it's just another piece of its tech defense against Amazon, Alibaba, and other e-commerce challengers. Investors should focus on this bigger picture instead of expecting to shop in virtual Walmart stores in the near future.