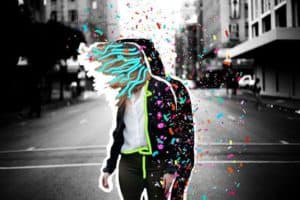 Photo-editing app PicsArt is giving users a new tool to edit images from a mobile platform: Brushes. On Tuesday, February 6, PicsArt announced the rollout of a new brush tool that allows users to paint with a specific pattern or even a sticker from an iPhone or Android phone.
As the name suggests, PicsArt brushes have a few features in common with the traditional virtual brushes that have been around since Microsoft Paint, allowing users to paint onto the image. But PicsArt brushes are divided into five different styles and not all of them are just stroke styles — users can also paint with a preset pattern or turn any of the free stickers on the platform into a brush, swiping to continuously brush the graphic over the screen. Sticker brushes can use the free stickers on the platform, which opens up more than 4 million stickers to a new format.
The option to turn a sticker into a brush pattern or use a preset pattern joins brushes for solid, dotted, and neon lines, along with, of course, an eraser.
The new brush option has its own spot inside the PicsArt editing toolbar. The tool is divided at the bottom into the different brush categories, with the option to brush on those patterns located next to the erase tool. Inside the pattern option, a search tool allows users to find the sticker they want to turn into a pattern. Or, mobile photo editors can choose from PicsArts' presets, which include options from adding sparkle and fake bokeh circles to putting butterflies or flowers into the shot.
Painting with the new brush tool is as easy as selecting the option and moving a finger over the brush screen. A slider at the side allows users to adjust the brush size while the usual PicsArt user interface means there is undo and redo options at the top of the screen.
The update mixes the traditional brush tool with a more recent trend of adding sticker-based images to the image. Rather than adding the same sticker over and over again to add a flock of butterflies to that selfie, the tool simplifies the task and in many of the presets, randomizes the placement of the graphics slightly.
PicsArt says the update is rolling out to all users Wednesday, February 7.