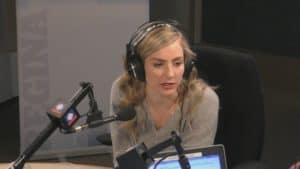 When Ashley Bernstein was a younger woman, she had no outlet for the strong, negative feelings she experienced, but she felt the need to "get them on the outside."
She started to self-harm, cutting her forearms, and the tops of her thighs, as a form of release.
Now, her scars are faded but still visible. She has a tattoo over some of them.
"It's OK to not be OK," said Bernstein.
"Going through things like this in your life is part of life, but you get over these things."
Part of Bernstein's healing process includes regular visits to Nu Image Medical Esthetics in Regina. Through its community outreach program, "Nu Beginnings," the clinic offers free medical esthetics treatments to patients who have been affected by accidents, illness, trauma or self-harm.
Two patients are selected every few months. In Bernstein's case, the staff at Nu Image will attempt to lessen the appearance of her scars using lasers and a technique called "micro-needling."
"We use a gold-plated, very tiny needle to go through the scar and the skin, to the point that we can stimulate new collagen to be made," said Dr. James Bastian, the owner and medical director at the clinic.
"Scars will decrease in size. Sometimes the colour and texture improves."
Nu Image also has access to various lasers, used to resurface the skin.
"That sends light energy into the skin and causes micro-trauma, which in turn leads to your own body generating new collagen and restructuring it so the skin will look more like it did prior to scarring," said Bastian.
Scars a sign of strength
The appearance of Bernstein's scars have lessened, but they are still clear. She began cutting herself in Grade 6, and continued until her second year of university. She tried to hide the evidence for much of that time.
"I would make up absurd reasons about how I got them," she said.
"I was scared to reach out for help because I thought people would look at me as being weak."