The program was at risk of shutting down because of a lack of funding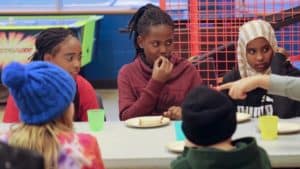 A popular dinner program for kids and families at the Boys and Girls Club in east Hamilton will keep running this year after neighbours and community groups stepped up with donations.
CBC Hamilton visited the club on Ellis Avenue a couple of weeks ago, highlighting the fact there was a $15,000 funding gap to keep the program going.
The dinner program runs five nights a week from 5 p.m. to 6 p.m. The club used to shut the doors between afternoon drop-in and evening drop-in times, to give kids a chance to go home for dinner. They realized many kids were just waiting outside for the club to reopen.
They started with about 25 or 30 people sitting down together for a meal. Now some nights run higher than 75 people.
Shawna Richard, a program manager at Boys and Girls Club of Hamilton, said the club met the $15,000 goal last week.
Donations came in from a mix of individuals and groups who'd seen the story in CBC Hamilton and wanted to respond, Richard said.
Donors included neighbours in the Crown Point community near where the club sits, United Steelworkers Hamilton Area Council and 100 Women Who Care Hamilton-Wentworth.
"The dinner program is so near to our hearts," she said. "I don't think we could be any more grateful for the support."