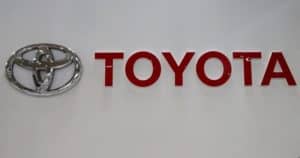 TOKYO — Toyota is seeing a nearly doubling of profit for the fiscal third quarter, and it lifted its annual profit projection through March to 2.4 trillion yen ($22 billion), a record high for the Japanese automaker.
Toyota Motor Corp. reported Tuesday an October-December profit of 941.8 billion yen ($8.6 billion), up from 486.5 billion yen the same period the previous year.
Quarterly sales rose 7.4 per cent to 7.6 trillion yen ($69.8 billion).
The company said it got a nearly 292 billion yen ($2.7 billion) boost from tax breaks under President Donald Trump's administration for the nine months through December.
Toyota, which makes the Prius hybrid, Camry sedan and Lexus luxury models, said it expects to sell 10.3 million vehicles globally in this fiscal year, ending in March. That is about the same as what the automaker sold globally in the 2017 calendar year.
The fiscal year profit of 2.4 trillion yen, if achieved, will mark a 31 per cent jump from what it earned the previous fiscal year.
For the latest quarter, Toyota's vehicle sales lagged on-year in North America. But they grew in Japan, Europe and other parts of the world, such as South America and Africa, compared to a year earlier.
Recently, Toyota picked as the site for its new U.S. plant Huntsville, Alabama — already a hub for the region's aerospace industry.
The plant is set to produce 300,000 vehicles per year, a combination of the Toyota Corolla compact car and a new small crossover SUV from Mazda. Production is targeted to begin by 2021.
Many states had competed for the project by the Japanese auto giants.
For the calendar 2017 year, Toyota sold 10.386 million vehicles. That trails the Renault-Nissan-Mitsubishi alliance, which brings together a French company with two Japanese automakers, which recorded global vehicle sales of more than 10.6 million vehicles last year. Volkswagen sold 10.74 million vehicles last year worldwide, a record for the German automaker.