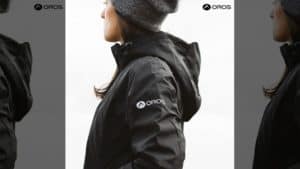 What does it take to survive on an island in winter? For anyone who has actually tried such a hair-brained scheme, you know it's all about the gear. The wind is ferocious at times off a frozen lake, there is no one around to help, and you never know how the weather will change.
In mid-January, I decided to test out some gear including a laptop, a laptop charger, a lamp that has a USB port for my iPhone X, and several products designed to keep me warm and safe. The island, located in Motley, Minnesota, is owned by a local children's camp, but it is about two miles from shore. I loaded up a backpack with a tent and sleeping bag, packed away a laptop, and decided to see how things turned out. Here's the gear that joined me.
1. Mophie Powerstation AC ($200)
This handy power-pack can charge a laptop like my Apple MacBook for an extra 15 hours of usage. It has a a 22,000 mAh battery, charge ports for connecting standard USB and USB-C cables, and a normal outlet you can use for lanterns inside the tent.
2. Mission Workshop The Rhake ($365)
How to keep the laptop warm and dry? I used this small backpack, which is weatherproof and has a large 22-liter interior padded compartment. The larger zipper pouches on the outside worked great for cables and my phone; inside, I stashed clothes and other essentials.
3. Vuarnet Ice Sunglasses ($290)
I had to be careful about direct sunlight. In a stark winter vista, your eyes will be even more exposed to glare. The Vuarnet Ice sunglasses worked perfectly on the island. Shades on the side also protect you, and they're super-light and grippy for trekking over snow mounds.
4. Microsoft Surface Book 2 ($1,500)
I was heading to the island to write, and this was my daily machine. Mainly, it's fast, has discrete NVIDIA graphics to soup up any photo-editing, and lasts all day easily without charging. Plus, I knew it wasn't a super-thin and delicate laptop that couldn't withstand some heavy jostling.
5. Uco Gear Sitka Tabletop Lantern ($90)
When it gets dark on an island, the darkness feels foreboding since no one else is around. This lantern extends to 26-inches to cast a wide glow. There's a USB charger for your phone, so I used one in the tent to keep my iPhone X topped off to a full charge.
6. Osprey Xenith 75 Backpack ($350)
A brilliant backpack for winter treks, the Osprey Xenith 75 in black and gray has a place to attach hiking poles and includes a removable daypack for short hikes. At the bottom, I stuffed in my sleeping bag. All of my pots and pans fit nicely in the 75-liter main compartment.
7. Thermarest Oberon 0 Sleeping Bag ($480)
There's no question about the tech used for this sub-zero sleeping bag, made mostly of sustainable down. Thermarest says it engineered the material down to every square gram of space to make sure the bag stays light and warm. In my case, it proved its value.
8. Oros Orion Series Men's Parka ($299)
Called "the warmest jacket on earth" for a reason, the Orion Series Men's Parka is strangely thin and light, yet blocks the cold air in a way that keeps you warm and toasty. The secret? The SolarCore insulation uses aerogel material (thank you, NASA) that's super-thin and warm.