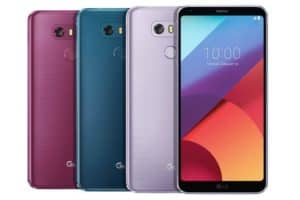 Phones don't have to be black, silver, or gold. There are a few other colors for companies to choose from, and the message seems to be getting through. LG is the latest to launch a complete new color run of not just the LG G6, but the cheaper LG Q6 too. There are three new colors for the G6, bringing the total available to eight, and two new colors for the LG Q6, giving you seven to choose from overall. South Korea will be first to get the new G6 and Q6 range in February, with other countries to follow afterwards. LG has not released prices or other exact release dates.
The G6's new colors have been carried across from the LG V30, with Moroccan blue, lavender violet, and raspberry rose making the phone even better looking than before. We're still huge fans of the ice platinum and mystic white colors, but also like the marine blue option. These three existing hues are joined by astro black and terra gold. For the LG Q6, all of the above colors also exist, and are now joined by Moroccan blue and lavender violet. LG seems to be restricting the raspberry rose to its flagship phones.
Despite coming up for its first birthday, the LG G6 remains a very modern looking, stylish phone, mostly due to the 18:9 aspect ratio screen — which at the time was an industry first. While it was a little expensive at launch, it's now possible to buy the G6 for $600 without a contract, making it good value. The LG Q6 is considerably cheaper and shares a similar look, but not the same level of functionality. However, if you can live with Amazon's ads and promotions, you can pick one up for $180 through an Amazon Prime Exclusive offer. If not, the Q6 can be purchased for $300.
These new colors help revive interest in the G6 ahead of Mobile World Congress, where the phone was launched in 2017; but there are rumors its successor won't arrive at the 2018 show. An LG executive said the company would launch new smartphones, presumably including the LG G7, "when the time is right," and not just when other manufacturers do so. Samsung will launch the Galaxy S9 and MWC 2018, which may have put LG off trying to share the limelight. For now, it seems new G6 and Q6 colors are all we're going to get for a few months.