Discussion with patients and families has changed, talks led by trained educators on end-of-life options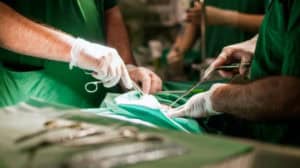 Training and awareness programs are boosting B.C.'s organ donations, with a 25 per cent increase in deceased donors making 2017 a record-breaking year.
More donations of lungs and kidneys led to 479 lives saved in the province last year, and Dr John Yee, the medical director of the B.C. Lung Transplant Program, said the increase is a result of seeds that were planted almost 10 years ago.
B.C. Transplant placed special nurse educators in health authorities across the province who were trained to support ICU and ER staff, and patient families, during end-of-life discussions.
"Prior to this, the conversations with families were ad-hoc and often very pressurized due to the rawness of emotions amongst family members and the workload pressures faced by staff in the ER and ICU," Yee told On The Coast host Gloria Macarenko.
"Over the years, we had trained people whose sole purpose was to help facilitate end-of-life discussions and to include organ donation as a normal option for families."
Yee noticed a cultural shift in the way patients and families viewed organ donation as the conversation evolved.
"Organ donations helps to partially heal the overwhelming grief that comes with the loss of a family member… Knowing that many lives will be saved, or significantly prolonged, from an unselfish gift at the time of incredible tragedy provides some meaning and measure of comfort in the face of loss," he said.
Overdose deaths and donors
In response to how the opioid crisis has affected donations, Yee said that they only see traces of fentanyl in about 20 per cent of donated organs and it's not necessarily the cause of death.
In many cases, overdose victims are found dead in the community, which excludes them from being possible donors, because the organs need to be harvested and preserved shortly after the patient is pronounced dead.
But because opioids are short lasting within the body, drug users are still eligible to donate their organs, which is a fact Yee said physicians are transparent about when discussing transplants with recipients.
"We make recipients aware that there is a drug history involved, but we also make them aware that all testing has been done and that these organs are completely safe for implantation."
"As much as we like to be transparent about the fact that drugs were involved with the donor, that is not a no-fly zone for the system, and the organs remain perfectly safe for implantation," he said.