Thanks to advances in computer software, it has never been easier to make your own music from home or on the go, rather than in a pricey studio. When it comes to the search for a free and reliable Digital Audio Workstations (DAW) to record music, the internet has a lot to offer, but what is the best free recording software?
Though "freemium" software often lacks the advanced functionality of renowned programs like Pro Tools, it still provides options for recording audio, adding effects, and cutting waveforms, among other basic tasks. Below, we compiled a list of the best free recording software you can download, install, and immediately start using on your computer.
The best
GarageBand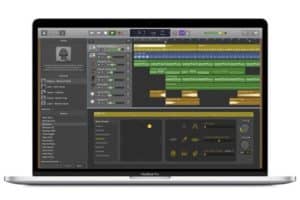 Although MacOS isn't always the only platform for great software, when it comes to free recording applications, it has the best of the bunch. GarageBand is an Apple exclusive program that gives you a full audio creation suite with features for audio recording, virtual instruments, MIDI-editing, and even music lessons built right in.
Part of the appeal of GarageBand is how simple it is to get going with. Its interface is intuitive and easy to learn and if you want to record something you just plug in your instrument or device and get started. There is a wide array of virtual amps and effects you can use, as well as drum tracks that sound like they were performed by real musicians.
The sound and loop library that's available for editing into your own tracks is growing all the time and you can even bring in your iOS devices for wireless control of your set up. GarageBand is the most fully featured, free application on this list and while you will need to have an Apple device to run it, you'd be hard-pressed to find a better application that doesn't force you to get out your credit card first.
The rest
Avid Pro Tools First
Avid produces some of the most popular professional-grade video and audio editing tools in the world, so the fact that you can use a streamlined version of one of its digital audio workstation applications for free and for as long as you want, is quite the treat.
Pro Tools First is a limited version of the main Pro Tools and Pro Tools HD applications, but it's still pretty capable in its own right. Aimed at singers, songwriters, and musicians who are just getting started with audio recording or want to try out the software before buying, the main limitation is that you can only store projects in the cloud and then, only up to 1GB in total size. Beyond that though, the features are much the same.
You still gain access to 500MB of bundled loops from leading producers, the Xpand!2 multitimbral music workstation with 20 effects and plugins, and the same support for third party-interface systems as the premium versions. You are however limited to just four maximum inputs, four simultaneous audio tracks, 16 instruments, and a maximum sample rate of 32-bit, 96kHz.
One upside of not having quite so many features as the premium editions of Pro Tools, is that Pro Tools First has less strenuous system requirements. It only needs an Intel Core 2 Duo processor, with 2GB of RAM and 15.5GB of install space.
If you do choose to upgrade to the standard or HD version further down the line, they'll set you back $25 and $83 a month respectively.
Audacity
First released in 2000, Audacity has gone on to become one of the most popular pieces of free software around, and for good reason. The open-source program gives users a wide range of options for recording and editing audio, all tied together with a simple interface. Perhaps most importantly, unlike many other free programs, Audacity is not "free for a limited time" or "free with many features locked." Everything Audacity has to offer is free of charge.
Compared to other notable DAWs such as ProTools and Sound Forge, Audacity's layout is very minimalist. There are toolbars for navigating a track, editing it, and mixing. When tracks are loaded, they will appear as waveforms, and users can edit specific sections of a track by highlighting the appropriate section of the waveform. Navigating the interface is easy, although it may take time for new users to figure out what every specific tool does. As far as editing goes, Audacity offers a surprisingly robust set of tools for a free program. Users can adjust pitch, bass, and treble, or normalize noise and add effects like reverb and phasing. Audacity even has some tools for analyzing tracks, including frequency analysis.
Of course, no piece of free software is without its shortcomings, and despite Audacity's many virtues, it has some issues. The most notable problem is that Audacity uses "destructive editing," which means that when users add effects to a track, they are actually altering the waveform; these changes happen to the original file, so you can't go back and undo them later. This isn't necessarily a problem if you're carrying out simple tasks — such as editing pauses out of a podcast — but more complex actions like mixing might be difficult.
Further, Audacity requires numerous plugins to reach optimal functionality; it cannot export projects as MP3s, for example, unless you install an MP3 encoder. Though, you could just convert the files from MP3 yourself, using external apps. Overall, however, Audacity offers one of the most robust packages available among free recording programs.
Ardour
Ardour is an open-source DAW designed for Linux and available for MacOS and Windows. Its developer, Paul Davis, also invented the Jack sound server for Linux and worked previously as one of the original programmers at Amazon.
Ardour features highly versatile multi-track recording features that include the ability to import video for film scoring purposes, to record and edit either non-destructively or destructively, and to prepare any combination of individual tracks for recording. Its use of Jack makes it compatible with a number of outside applications, as well. However, unlike other DAWs, Ardour does not come with any built-in effects or instruments and relies instead on the installation of third-party software.
Zynewave Podium Free
In 2005, programmer Frits Nielson left his position as a user interface designer with TC Electronic to focus his efforts on a recording application he began developing back in the early '90s. Nielson started a company called Zynewave and released a program called Podium — a fully functional DAW with a 64-bit sound engine, MIDI capabilities, VST and third-party plugin compatibility, and a number of other advanced functions. It was also priced at a mere $50.
Zynewave now offers a free version of its software called Podium Free. Granted, it comes with some limitations — Zynewave has disabled Podium's multiprocessing capabilities, which hinders the program's performance under pressure and its surround-sound playback capabilities. Otherwise, though, Podium Free is identical to Podium, a program that takes some getting used to.
Once users learn how to use it, however, they will find that Podium Free offers an interface that excels in terms of customization, while offering a suite of effects and other features on par with premium DAWs. The program also never times out or displays a nag screen, and Nielson regularly updates the software to fix bugs and known issues.
VirtualDJ Free
Those looking for an intuitive way to record and mix audio should enjoy the free version of VirtualDJ, which provides users with an easy-to-use interface in which to tweak audio. The first thing new users might notice when launching VirtualDJ is that the interface is modeled after a traditional DJ table. There are two decks to load tracks onto, and numerous dials and sliders for adjusting pitch, volume, and other audio aspects. There are even two "records" that users can scratch and spin if they please. Tracks are displayed as overlapping waveforms at the top of the screen, which allows users to line up two different tracks at precise intervals.
Users coming to VirtualDJ for musical purposes will also find an array of effects to use, including reverb and flanging. The program also allows users to splice samples into their songs; the default samples — which include an air raid siren and a person saying "pump it up!" — are kind of dull, but what is really nice about the program is the ability to create your own samples. The process is straightforward thanks to VirtualDJ's readable interface, so if you wanted to cut out the chorus of Take On Me, speed it up alongside a hip-hop beat, and throw in some digital bagpipes, for example, you could to do in a matter of minutes.
As good as it is though, VirtualDJ is hardly perfect. The options for editing audio are relatively shallow and the built-in effects are pretty basic, so users looking to really experiment with audio will probably want to look elsewhere. Still, with its very intuitive interface, VirtualDJ is a great tool for aspiring musicians looking to dip their toes into mixing and editing.