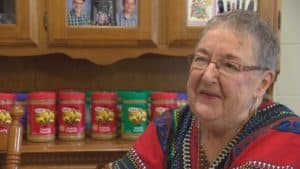 As she approached her 80th birthday, Simone Parent-Aubry came up with a nutty idea — instead of celebrating with a party she would collect a jar of peanut butter for every year of her life to donate to Winnipeg Harvest.
The idea turned out to be a hit, and it spread a lot of joy in her St. Boniface seniors building.
"It seems that when you turn 80 it's very important — I had planned parties for my mother when she turned 80, 85, 90, 95 and 100, and I didn't want people to do that, but I wanted to do something special," said Parent-Aubry of the idea she came up with during knitting club."I thought I could make people happy by collecting 80 jars of peanut butter."
Before her birthday Jan. 5, she spread the word by putting up bulletin boards all over L'Accueil Colombien seniors block, where she lives.
She couldn't believe the response.
"Everybody responded so very well," she told CBC News, adding the idea meant she had visitors all month long. "Every time there was a knock on the door I knew there was a new jar of peanut butter and the number went up and up and up."
Some people started to donate money as well, and that was used to buy more and more jars.
All in all she collected 175 jars of peanut butter.
"I doubled the amount I wanted," said Parent-Aubry, who adds the event really created a buzz in the building. "I'm very happy because I got to meet a lot of nice people, I heard their stories, and it was a good sharing period."
With much more peanut butter than she'd intended to collect, Parent-Aubry decided to give 100 jars to Winnipeg Harvest and split the remaining jars up for Morberg House and the Society of Saint Vincent de Paul.
Parent-Aubry, who lost her husband last summer, says the idea was a great way to meet her neighbours and help her and others beat the winter blues.
She hopes it encourages others to do similar acts of kindness.
"I hope that people will do that — even it it's on the small scale," she said. "There's so many places where they could give."