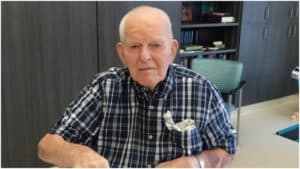 Esmond Allcock says the secret to living 108 years is to select the proper spouse.
Allcock, from Kerrobert, Sask., located about 200 kilometres southwest of Saskatoon, celebrated his 108th birthday on Friday and is the oldest man in Canada.
"I didn't behave myself for a few years there, but then I got a really good wife," he said, when asked how he managed to live a long and happy life.
His wife Helen passed away seven years ago after 72 years of marriage. He lived alone in the family home for a short time and then decided to move into the Kerrobert Health Centre.
On Friday employees at the centre threw the 108-year-old a birthday party.
"Oh they nearly drove me nuts. They probably took 100 pictures of me," he said laughing.
The town's Mayor, Wayne Mock, also attended the party. He honoured the self-proclaimed Blue Jays baseball super-fan by declaring January 26 as Esmond Allcock Day.
Long-distance celebrations
Although his son Dale Allcock, 78, couldn't make it to the party from Port Coquitlam, B.C., the two Facetimed beforehand.
"We Facetime every day on his iPad and you can really tell how happy he is, and they treat him like gold in there," he said.
Staff wrapped up the party with his favourite meal: steak, carrots and fruit.
Home sweet home
According to his son, Allcock has lived in Kerrobert for 100 years and worked as a farmer before retiring in 1965.
He has 67 living relatives which includes 38 great grandchildren.
"He really is a gift. That's about all we can call that," said Dale.