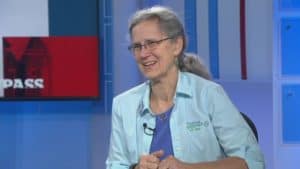 Dealing with Alzheimer's patients can take a lot of understanding and a deft touch but on Monday dementia expert Teepa Snow was on P.E.I. offering some guidance to health care professionals and caregivers.
More than 2,500 Islanders currently live with dementia and Snow told attendees at P.E.I.'s annual Alzheimer's Awareness Conference in Charlottetown that those lives can be lived to the fullest.
"This isn't a condition you're born understanding, because it's illogical in many ways," Snow told CBC News: Compass host Louise Martin.
One of the biggest misconceptions about Alzheimer's disease is that it is simply a memory problem, Snow said — but it happens to be much more than that.
"It isn't just memory problems, it's vision changes, it's comprehension changes, it's ability to do complex tasks and to initiate. There's so many bits and pieces that are going to start coming apart," she said.
'Be curious, not accusatory'
Another misconception is that loved ones can be caregivers 24-7.
"No human can care for another human 24-7 and to ask them to do it is just putting their head on the chopping block," she said.
"We do need a community coming together."
The early warning signs of dementia are when people begin to significantly deviate from the way they've done things in the past, Snow said.
"Be curious, not accusatory," about changes in a loved one, Snow advises, and then find help for them and for yourself and other caregivers.
Also, don't assume the changes are due to dementia — they could be linked to something else.