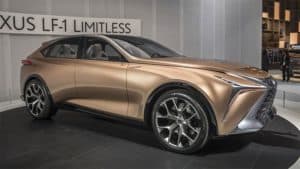 Many years ago, Mercedes-Benz counted many blue moons debating about and then hinting at a full-sized SUV, before the GLS-Class arrived in 2007 (known then as the GL-Class). After that, Audi and BMW each grabbed a gilded handle on The Waffler's Cup, equivocating for years about a Q8 and an X7, respectively; both of those luxurious load-haulers are expected in showrooms soon. Having seen the Lexus LF-1 Limitless Concept at the Detroit Auto Show, we wonder if Lexus intends to hoe that same row – dodging years of questions about a production version of the LF-1 Limitless before finally committing.
Lexus US general manager Jeff Bracken hopes that's not the case. His address to the unveil audience at the NAIAS included the appeal, "We have to build this vehicle," aimed at his boss, Lexus global chief Yoshihiro Sawa. Bracken stoked the flames of his own desire after the reveal, telling journalists, "We couldn't be happier if we turned this into a production vehicle," and, "We clearly have a gap at the high-end premium cross-utility segment."
We're certain plenty of his colleagues share the sentiments, and why wouldn't they? A Lexus LS-based family functionary begs the question, "Why isn't this already a thing?" The LF-1 Limitless does fierce, futuristic service to its Ghost in the Shell design philosophy of "molten katana," and Lexus needs a proper three-row crossover. Not the three-row RX, nor the opulent, cretaceous GX and LX SUVs, but a unibody crossover to challenge the aforementioned German rivals. If Lexus really does "want to be the brand which is emotionally connected with the customer," it would do well to begin its courtship with this rose-copper gem.