Monthly fee in U.S. rises to $12.99, but Canadians only pay annual fee, which stays at $99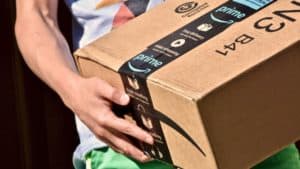 Amazon is hiking the monthly fee it charges its U.S. customers for Prime membership, but the change won't impact Canadians who all pay by the year.
The online retailer announced Friday that starting immediately, new customers would be charged $12.99 US a month, up from $10.99 US previously. The monthly fee for college students with rise to $6.49 US a month, up from $5.49 US currently. Existing monthly members will start paying the higher fees next month, the company said.
Instead of a monthly fee, Amazon also offers an annual fee of $99 Cdn for Prime membership, and there are no plans to change that.
Canadians are exempt from the monthly fee hike because all of Prime memberships in Canada are of the annual variety, the company confirmed to CBC News in an email. "We don't have anything to share with regard to pricing change for Prime membership in Canada," the company said.
Amazon doesn't disclose how many Prime members it has, but it has had success with the program because Prime members tend to buy more things on the site, more often, because shipping is quick and inexpensive.
They also get other perks, such as access to Amazon's video and music streaming services.