8-time national champs will lead Canadian team into PyeongChang Olympic Stadium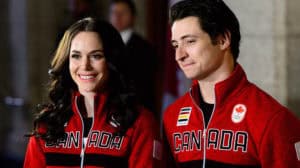 Honour. Pride. Privilege. Emotional. Powerful.
That's how figure skaters Tessa Virtue and Scott Moir describe the feeling of being named Canada's Olympic flag-bearers for the Feb. 9 opening ceremony at the Winter Games in Pyeongchang, South Korea.
The three-time world champion ice dancers will make history as the first woman and man – and first duo, period – to carry the Canadian flag into the opening ceremony.
"This is undoubtedly the pinnacle of our career," Virtue said at Tuesday's news conference from inside the House of Commons in Ottawa. "The honour of carrying the Canadian flag into the opening ceremony at the 2018 Olympic Winter Games in Pyeongchang brings with it a sense of duty, privilege and above all, great pride.
"Pride in representing a nation whose values stand for unity, diversity, fairness and inclusion. Pride in marching with a team of inspiring athletes who will fearlessly and courageously compete for Canada on the world's biggest stage. Pride in our maple leaf and all that it represents."
Virtue and Moir had to be secretive about the "thrilling and unexpected news" of being asked to be flag-bearers by Skate Canada CEO Debra Armstrong and high performance director Michael Slipchuk following their short program last Friday at the Canadian figure skating championships in Vancouver, where they won an eighth national title.
"We're trying to savour every moment of this," said Virtue. "We've spent so many years making sacrifices and putting in all the hard work. It's moments like this that make it all worth it. It's the opportunity to wear the maple leaf and represent Canada.
"The figure skating team is something else but Team Canada, across the board, is something fierce."
Virtue, from London, Ont., and Moir, from Ilderton, Ont., will lead a Canadian contingent of about 230 athletes into PyeongChang Olympic Stadium, a 35,000-seat, open-air facility in Hoenggye village.
Canada three times has had two people share flag duties at closing ceremonies:
Rowers Marnie McBean and Kathleen Heddle in 1996
Pairs figure skaters Jamie Sale and David Pelletier in 2002
Gold-medal bobsledders Kaillie Humphries and Heather Moyes in 2014
Kurt Browning was the most recent figure skater to carry the Canadian flag at an opening ceremony, in 1994 at Lillehammer, Norway.
Moir conceded to feeling added pressure being flag-bearers but will use it as added motivation.
"We always say we see that pressure as moral support because we put as much pressure on ourselves as we can, and we're going to be ready," he said. "The relationship that we have with our teammates on Team Canada is above special. … The challenge will be to re-focus for our own event because it's going to be an emotional high."
Hockey player Hayley Wickenheiser was the flag-bearer for the opening ceremony of the 2014 Winter Olympics in Sochi, Russia.
"When our Olympic flag-bearers march into the PyeongChang Olympic Stadium, they will be carrying not just the Canadian flag, but the hopes of every young person who aspires to represent Canada at the Olympics some day," said Trudeau, who made the flag-bearer announcement.
Added Moir: "We see this as, probably, the biggest honour of our career. The challenge will be to re-focus for our own event because it's going to be an emotional high."
After becoming the first North Americans to capture Olympic gold for ice dance at the 2010 Vancouver Games, Virtue and Moir finished second overall four years later in Sochi, Russia, behind American rivals Meryl Davis and Charlie White, along with winning silver in the team event before stepping away from competition for two years.
Virtue, 28, and Moir, 30, will attempt to win at the first-ever Winter Games in South Korea, in what will likely be their final Olympic competition. During their illustrious 20-year career, they've also captured three Four Continents championships and several Grand Prix titles.
'Adored by their fans'
In October, Virtue and Moir also took gold at Skate Canada with a personal best and world record of 199.86 points in Regina.
"Tessa and Scott are champions who have always represented Canada with such strength and grace," said COC president Tricia Smith. "They have become two of our country's greatest ambassadors to the Olympic Movement.
"They are admired by their teammates, respected by their opponents and adored by their fans."
Led by Virtue and Moir, Canada could have its strongest Olympic figure-skating team in 30 years as ice dancers Kaitlyn Weaver, Andrew Poje, Eric Radford and Meagan Duhamel (pairs), Patrick Chan (men) and Kaetlyn Osmond (ladies) possess the talent and star power to reach the podium.
Chilly ceremony?
Virtue, Moir and their teammates will sport uniforms featuring colour blocks of red and white, plus black. The opening ceremony parka, which falls to the mid-thigh and features "Canada" emblazoned across the chest in bold white lettering, will probably come in handy, along with tuques.
The temperature at the start of the opening ceremony could hover around minus -14 with the wind chill, significantly colder than the wind chill at the ceremonies in Vancouver (5C) and Sochi (4C), respectively.
In November, six people suffered hypothermia at a concert at the pentagon-shaped PyeongChang Olympic Stadium, where there are no built-in heating systems for the seats and corridors.
Each spectator at the opening ceremony is expected to receive a raincoat, small blanket and heating pads to sit on and for their hands and feet.
The two-hour ceremony will follow the same structure as Sochi, featuring the traditions associated with the Olympics such as lighting of the torch and parade of participants.
Opening ceremony schedule:
Entry by head of state.
Playing of national anthem.
Parade of participants.
Symbolic release of pigeons.
Head of state declares Games open.
Raising the Olympic flag and playing Olympic anthem.
Taking of Olympic oath by an athlete.
Taking of Olympic oath by an official.
Taking of Olympic oath by a coach.
Olympic flame and torch relay.
Artistic program.
Meanwhile, under a proposal the International Olympic Committee will consider next week, North and South Korean athletes could parade together for the first time at an international sporting event since the 2007 Asian Winter Games in China.
The countries are technically still at war after their 1950-53 conflict ended with a truce.