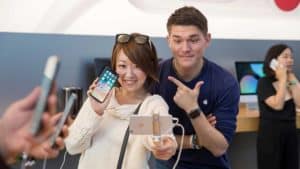 Apple (AAPL) hit a record high Tuesday morning, looking at first glance like a market leader after reclaiming a buy point Friday. But Friday's move had some glaring weaknesses and by Tuesday's close Apple retreated to settle just under its entry area again.
Meanwhile, iPhone chipmakers such as Broadcom (AVGO), Skyworks Solutions (SWKS), Qorvo (QRVO), which have been market laggards in the past several weeks, hit key resistance Tuesday. But Qualcomm (QCOM) made a big move.
Apple
On Tuesday, Apple hit a record high of 179.39, but reversed with the market, closing down 0.5% to 176.19, back below the 176.34 flat-base buy point.
Apple rose 1% to 177.09 on Friday, reclaiming the 173.64 entry. That wasn't an especially powerful price gain. Meanwhile, volume was 7% below normal. You want to see trading activity rise at least 40%-50% above average on breakouts and moves into buy zones.
Apple's relative strength line, which tracks a stock's performance vs. the S&P 500 index, is well off recent highs. (The RS line is the blue line in the stock charts below.) Friday's 1% stock move, not much more than the S&P 500's 0.7% advance, did little to change that. You want to see a stock's RS line lead or confirm a breakout or move into a buy area.
Apple's RS line hasn't made headway since early May. Even when Apple briefly broke out on Dec. 18, the stock's RS line was off its prior highs.
Can Apple's move into buy zone work? If the market continues to power ahead, then there's a good chance that Apple's stock will continue to climb. It's also possible that Apple will begin to outperform the S&P 500 significantly again.
Investors should try to focus on stocks that will deliver the strongest gains, while minimizing the risk of losses, especially big losses.
Broadcom
Broadcom is currently in a flat base with a 285.78 buy point. Broadcom sank 0.4% to 263.25 after finding resistance at its 50-day moving average. The RS line has fallen to its lowest levels since early July or early May. That reflects a series of flat bases on top of or next to each other without making much headway.
IBD'S TAKE: With the market now in a confirmed rally for 100 days, it can be hard to see who are the true leading stocks and which are in the middle of the pack. See why IBD's relative strength line is so important.
Qualcomm
Qualcomm is an interesting case for two reasons.
First, the wireless chip giant is in a royalties battle with key customer Apple, as well as related legal and regulatory challenges and probes around the world. Those woes helped send the stock crashing from October 2016 to last September.
Second, Broadcom is making a now-hostile bid for Qualcomm, so the latter's shares skyrocketed in November. Since peaking in late November, Qualcomm and Broadcom shares have generally moved in a similar fashion. Then again, so has Skyworks Solutions.
But Qualcomm separated from Broadcom on Tuesday, climbing 4.4% to 68.25 as it laid out its case for staying independent, offering bullish 2019 targets.
Qualcomm is in a huge cup-with-handle base. If you prefer, you can view the handle as a flat base on its own. Either way, the buy point would be 69.38. Shares closed Friday at 65.38, finding support at its fast-rising 50-day line.
Qualcomm's RS line has lagged badly since late Nov. 24, reflecting the stock's underperformance over that time. But the RS did get a nice bounce Tuesday with shares rising and the major averages retreating.
Skyworks Solutions
Skyworks Solutions is in a consolidation essentially next to two prior patterns that had short-lived breakouts. Skyworks has a 117.75 buy point. Shares closed Friday at 101.21, continuing to trade below its 50-day and 200-day line. The 50-day line last week fell below the 200-day, negative technical action known as a bearish cross.
Meanwhile, the RS line peaked in early June and is now just off its lowest levels in a year.
Skyworks found resistance at its 50-day and 200-day moving averages, reversing lower to close off 1.3% at 99.86.
Qorvo
Qorvo, like Skyworks, is in a consolidation next to a pair of bases with breakouts that soon failed. It's also below its 50-day and 200-day moving averages. The RS line is right around the lowest levels in a year after peaking last May.
Qorvo is in a consolidation with an 81.30 buy point, but has a lot of work to do. Qorvo sank 2.45% to 69.30 on Tuesday, finding resistance at its 200-day line.
Other Apple Chipmakers
Analog Devices (ADI) and Integrated Device Technology (IDTI), both seen as iPhone X plays, are both in shallow, short cup bases. The RS lines are lagging, though a powerful stock gain could lift these stocks' RS lines above at least a short-term high from their recent pseudo-handles (they are not proper handles). Keep in mind that the RS lines have basically been flat for a year. Integrated Device's earnings have been spotty.
Analog Devices rose 1.2% to 93.10, closing in on a 94.09 entry. Integrated Devices fell 1.7%.