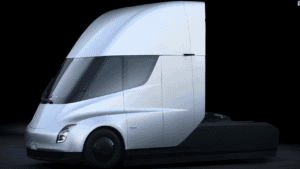 Wall Street appears to be tired of Elon Musk overpromising and underdelivering on Tesla's new affordable Model 3 electric car.
Shares of Tesla (TSLA) fell 3% Thursday after the company disclosed that it is still having a tough time getting its Model 3 to customers on time. Tesla is way behind on its ambitious production goals.
The stock has now plunged more than 20% from the all-time high it set last year, which means that Tesla is technically now its own little bear market.
Short sellers, investors who bet that a stock will go down and profit when the price falls, have piled into Tesla lately.
According to research firm S3 Partners, which tracks short selling, Tesla has been an extremely profitable trade for the past few months.
Ihor Dusaniwsky, managing director of predictive analytics for S3 Partners, tweeted after Tesla's disappointing outlook that short sellers were set to make nearly $240 million from the stock's most recent decline.
Even big, well-known Wall Street firms are souring on Tesla.
JPMorgan analyst Ryan Brinkman wrote in a report last month that he thinks Tesla stock could fall 40% in 2018 due to the Model 3 difficulties.
Competition could be another big problem.
While Tesla is the clear leader with higher-end, luxury electric vehicles thanks to its Model S sedan and Model X crossover, it's unclear if Tesla will be able to sell as many cheaper Model 3s as needed to truly become a true mass market auto company.
Nissan (NSANF) already is selling the Leaf. And GM (GM) has a big lead over Tesla with its Bolt. General Motors (GM) said Wednesday that it delivered more than 3,200 Bolts to customers in December — more than double the number of Model 3s that Tesla delivered for the entire fourth quarter.
There's also the issue of whether Tesla (and Musk for that matter) are overextended.
Tesla is also busy ramping up production of a semitruck for big corporate customers (Walmart and UPS have already placed orders) and integrating the SolarCity solar panel acquisition.
This wouldn't necessarily be a problem if Tesla was already a profitable market leader.
But the company is continuing to lose money, raising fears that Tesla may need to sell more stock to fund its ambitious plans. Doing that would reduce the value of shares for Tesla's existing investors.
Finally, Musk also runs rocket company SpaceX and tunneling business The Boring Company.
So it's reasonable for Wall Street to wonder if Musk simply has too much on his plate. Tesla is a classic cult stock. There is considerable hype and it may be impossible for Tesla to live up to it.