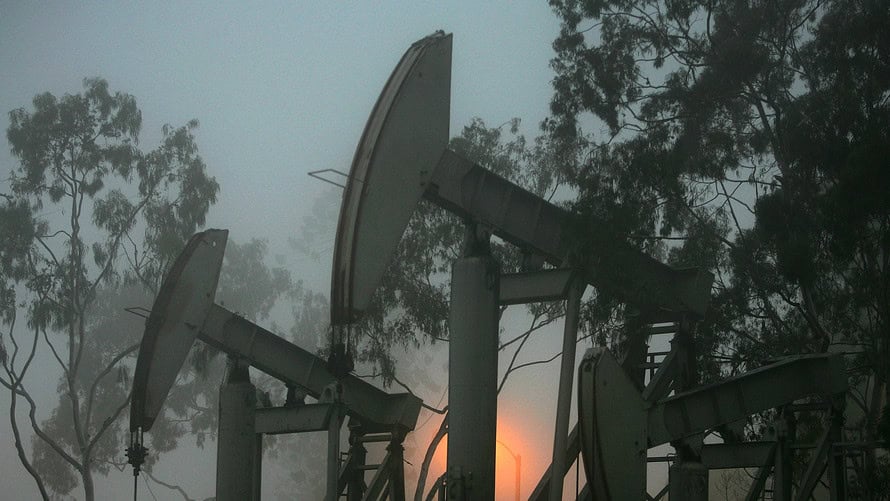 Natural-gas futures rally to highest settlement since 2014
Oil prices sank on Tuesday, with U.S. benchmark crude settling at its lowest year-to-date, stretching its record streak of losses to a 12th session, and global benchmark crude officially entering a bear market.
Natural-gas futures, meanwhile, jumped by more than 8%, to settle at their highest level in nearly four years as the heating fuel continued to soar on the back of expectations for strong winter demand. The move comes a day after futures prices settled at an almost two-year high.
Picking up on losses that heated up in Monday's extended session, crude for December CLZ8, -0.29% fell $4.24, or 7.1%, to settle at $55.69 a barrel on the New York Mercantile Exchange. That was the lowest front-month contract finish since Nov. 16, 2017, and biggest one-day percentage decline in more than three years, according to Dow Jones Market Data.
The down day for oil marked the 12th consecutive decline, the longest series of losses for the commodity since WTI started trading in 1983. Monday marked an 11th straight loss for the contract.
"The U.S. started this mess by sanctioning Iran. Then pulled all the teeth at the 11th hour. Iran is still producing and selling," said Matt Badiali, senior research analyst at Banyan Hill Research. At the same time, the Saudis upped their production to offset Iran's expected decline, "which means there is too much oil in the market."
Rising production and a softening in U.S. oil sanctions on Iran, that included waivers for big crude importers like China, helped to contribute to a whipsaw lower for oil prices.
Still, Badiali said he stands "by the fact that the Saudi's are near the top of their production range" and can't maintain this rate for long, so "right now we are at the top end of supply, with everyone producing as if Iran were cut off."
"I expect this to be a bottom in oil prices," said Badiali.
Similarly, Owen Williams, founder of Williams Market Analytics, said he believes that "oil prices are overshooting to the downside, as economic deterioration … is not yet a concern and supply fears are overblown."
After WTI fell into a bear market last week—defined as a drop of at least 20% from a recent peak—a tweet by President Donald Trump on Monday added to oil's woes, as he voiced disapproval over a potential production cut by Saudi Arabia and the Organization of the Petroleum Exporting Countries, and said prices "should be much lower based on supply!"
On Tuesday, global benchmark Brent crude officially entered a bear market, down about 24% from its peak in October, with January Brent LCOF9, +0.14% tumbling $4.65, or 6.6%, to settle at $65.47 a barrel on ICE Futures Europe.
"Anyone who thought that the U.S. president's verbal attacks on OPEC would come to an end after the U.S. congressional elections has been proved wrong, in other words. The question now is how Saudi Arabia and OPEC will respond," said analysts at Commerzbank in a note to clients.
OPEC and nonmember Russia saw crude production continue to climb in October, more than offsetting losses from Iran where U.S. sanctions kicked in earlier this month, according to a monthly report from OPEC issued Tuesday.
The Energy Information Administration on Tuesday said it forecasts a rise in oil output from seven major U.S. shale plays of 113,000 barrels a day in December to 7.944 million barrels a day. while the International Energy Agency's monthly oil report comes out Wednesday.
Weekly petroleum supply data from the EIA will be released Thursday, a day later than usual due to Monday's Veterans Day holiday. Analysts polled by S&P Global Platts expect the government agency to report a rise of 2.3 million barrels in crude stockpiles for the week ended Nov. 9. That would mark an eighth straight weekly climb.
Natural-gas prices NGZ18, -0.34% meanwhile, finished at the highest for a front-month contract since November 2014, according to Dow Jones Market data, with the December contract up 8.3% to $4.101 per million British thermal units. On Monday, prices settled at the highest in nearly two years as traders fretted over tight supplies and cold weather.
Natural-gas prices have been supported by forecasts for "colder than normal weather for the next ten days on the east coast," with U.S. inventories of the fuel about 16% below the five-year average, said Scott Gecas, chief market strategist at Long Leaf Trading Group. There's also speculation that "power plants switching to coal to conserve gas for the upcoming months."
Elsewhere in the energy market, December gasoline RBZ8, -0.21% fell 5.7% to $1.543 a gallon—the lowest finish since July 2017. December heating oil HOZ8, +0.03% dropped 4.3% to about $2.063 a gallon.