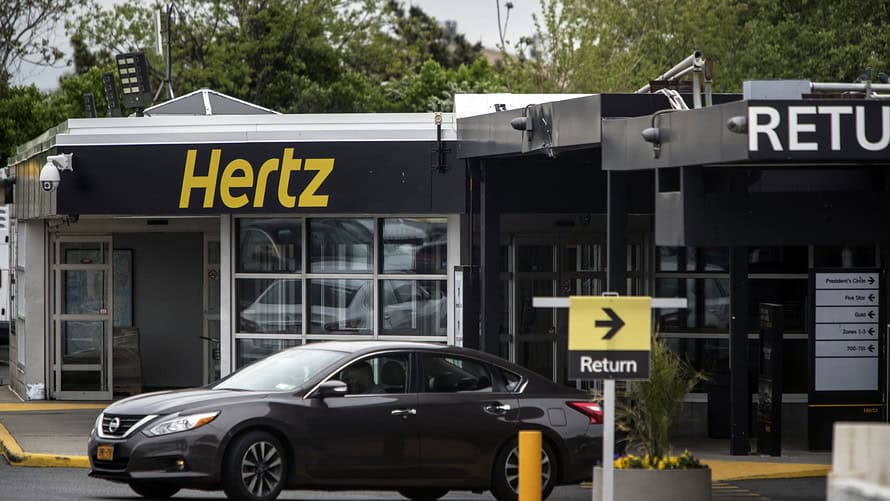 Hertz shares were on track for their best close in more than a month
Shares of Hertz Global Holdings Co. skyrocketed more than 16% Friday as investors cheered the car-rental company's better-than-expected third-quarter earnings with some going as far as to say that Hertz has turned a corner.
Hertz HTZ, +19.15% stock was on track for its best closing since Sept. 17 and the biggest one-day percentage increase since Aug. 7.
Hertz late Thursday reported adjusted third-quarter earnings of $2.14 a share on sales of $2.8 billion. That compares with analyst expectations for an adjusted profit of $1.77 a share on sales of 2.7 billion, according to FactSet.
"Economic growth, strong enplanements, record high used car prices, and still low funding costs should all be helping (Hertz)," analysts at Morgan Stanley said in a note Friday, borrowing a term from the aviation industry to mean customers driving off the parking lot in a Hertz car.
"Going forward, we see turnaround actions providing tailwinds but fleet (depreciation and amortization) and interest costs becoming headwinds in an industry we still don't believe has long-term growth potential or pricing power," the analysts, led by Adam Jonas, said in a note.
They kept their equivalent of a sell rating on the stock and price target of $15, which would represent 12% downside to Friday share prices.
Hertz's quarterly beat was mostly achieved through lower fleet cots in the U.S. and lower general expenses. The company and others in the car-rental business has felt the pinch of people eschewing rentals in favor of ride-hailing companies.
An oversupplied used-car market, mostly due to an uptick of new-car leases, have also hampered the rental companies, as they find it harder to offload the thousands of vehicles they retire from their rental fleets every year.
"Our sense is (Hertz) is benefiting from a stronger used vehicle environment and higher penetration of alternative disposition channels, such as direct-to-consumer sales," analysts at Consumer Edge said in a note Friday.
Third-quarter financial results "suggest HTZ is making progress in its turnaround efforts," analysts led by James Albertine said.
Analysts at Goldman Sachs highlighted that while U.S. pricing, volumes, and depreciation expenses were all better than expected, Hertz notched higher direct operating expenses as a percentage of revenue despite improved U.S. utilization levels.
The company also grew its fleet a little larger than expected, and free cash flow fell short of Goldman's expectations, they said.
"Overall, while we do think results were better than investors were expecting especially following a miss from public peer (Avis Budget Group Inc.)," the Street will zero in on the sustainability of current vehicle depreciation expense, whether the free cash flow picture might be a larger drag than forecast, and what's contributing to higher direct operating expenses, said analysts, led by David Tamberrino.
Avis CAR, -0.12% on Monday missed third-quarter earnings and sales expectations and narrowed its full-year guidance ranges for profit and revenue.
Shares of Hertz have lost 14% this year, versus advances of 3.8% and 5% for the S&P 500 SPX, -0.92% and the Dow Jones Industrial Average DJIA, -0.77% in the same period. Avis shares are down 27% in the year.