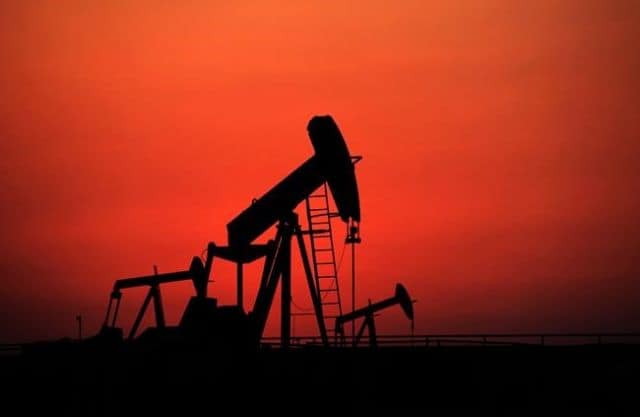 Crude oil prices dipped to near a nine-month low as they fell for a tenth consecutive day, potentially having an impact on the Bank of Canada interest rate decision next month.
West Texas Intermediate dipped to a low of US$59.26 before closing off 83 cents or 1.4 per cent to US$59.84.
Since its peak last month, WTI is down about 22 per cent as it experienced a fifth consecutive weekly drop.
And the December crude contract was down 48 cents at US$60.19 per barrel to the lowest level since February.
A glut of oil production is the main cause of the declines in prices of WTI and Brent crude.
The United States has taken the crown as the world's leading oil producer after output increased by two million barrels per day over the last year to reach 11.6 million bpd.
At the same time, OPEC is over-producing and sanctions have been watered down against Iran as the U.S. granted waivers on the sanctions to eight countries over concerns that a complete end of Iranian imports would cause economic disruptions.
"But sentiment has also driven down the prices with fears on global growth weakening and therefore slowing oil demand," says Cavan Yie, a portfolio manager at Manulife Asset Management.
The situation is compounded in Canada where the price differential with the Western Canadian Select has widened considerably because of the lack of pipelines to carry crude out of Alberta. And a Montana judge's ruling that the Keystone XL project needs further work is another black mark for Canadian energy investors, he said.
"It's been a challenging year so far for the energy patch," Yie said in an interview.
Low Canadian oil prices are having a negative impact on government tax revenues and the Alberta economy, which will likely impact the Bank of Canada's rate hike decision next month, he said.
"I think for sure it should be incrementally negative for their stance on future interest rate hikes," he said. "I think the probabilities are probably a little lower."
Barring a major turnaround in the next four weeks, it will be hard for Governor Stephen Poloz and his team to ignore the impact of low oil prices as it makes a December rate decision, added CIBC chief economist Avery Shenfeld.
Canada's heavy oil benchmark, Western Canadian Select, is less than $17 per barrel. The Bank of Canada's monetary policy report assumed a price at about twice that level.
"WCS is closing in on the lows set in 2016, and is well below the level that prompted an outright rate cut by the Bank of Canada in 2015," he wrote in a note.
"For now, however, what's clear is that the oil sector — responsible for Canada's largest export product as well as up to a third of business capital spending in good times — will be reverting to a drag on growth forecasts in upcoming quarters."
Some of the decrease reverses a steep run-up in anticipation of sanctions against Iran, says BMO Financial Group chief economist Douglas Porter.
"The severe drop brings WTI prices back to where they ended 2017, which was actually the highest level of the year. So, current prices are still well above last year's average of $51," he wrote in a note.