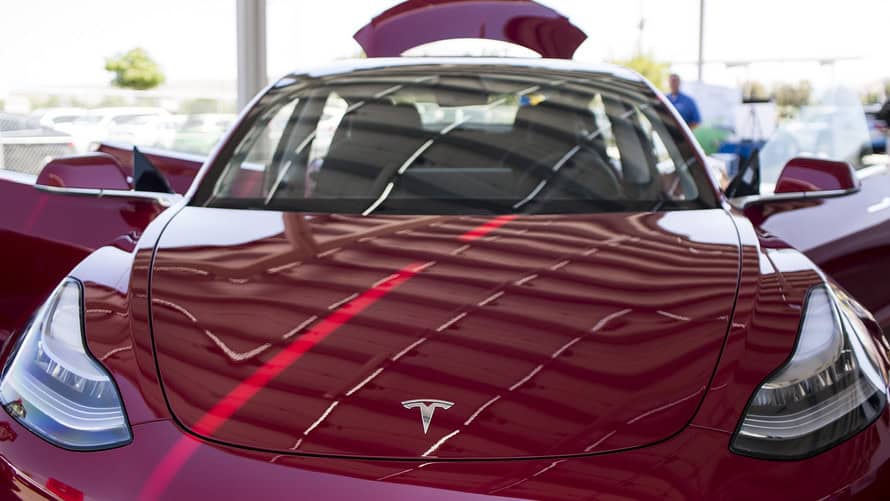 Macquarie is expecting the electric car maker to show consistent profitability from the second quarter of 2019
Tesla Inc. "checks all the boxes" except for one important one for inclusion in the S&P 500 index, Macquarie Research said Thursday, boosting the Silicon Valley car maker's shares on a mixed day for the stock market.
Even that missing part — consistent profitability — will arrive for Tesla TSLA, -0.68% after the second quarter of 2019, Macquarie analyst Maynard Um wrote in a note.
Tesla surprised markets last month when it reported a third-quarter GAAP and adjusted profit, but several Wall Street analysts have expressed doubts that it will do so in the coming quarters.
In a sweeping interview last week, Tesla Chief Executive Elon Musk promised Tesla would be cash-flow positive "all quarters going forward" and it was "over the hump" with Model 3 production.
The index's methodology requires that the sum of the company's four most recent quarterly earnings as well as its most recent quarter be a positive number.
"While (Tesla) still has to prove it can sustain profitability, we believe the company will achieve this last eligibility requirement driven by steady demand for Model S & X, increasing production to meet Model 3 demand, and potential for meaningful (Zero Emission Vehicle) credit revenue," Um said.
But even if Tesla succeeds in attaining the profitability requirement, it won't be a shoo-in: In his note, Um acknowledged that the S&P does not disclose how it decides which stocks to add after all eligibility boxes are checked.
Still, joining the S&P 500 SPX, -0.25% would unleash a torrent of new money from myriad funds, including pension, mutual and exchange-traded funds, that track the large-cap benchmark or have restrictions on which stocks to add to their holdings.
The index's 500 constituent companies are considered to be a proxy for the U.S. equity market. The other key benchmark, the Dow Jones Industrial Average DJIA, +0.04% is an even more exclusive club, with 30 companies as components.
Twitter Inc. TWTR, -2.31% in June joined the S&P, replacing Monsanto Co., which was being acquired by Bayer AG. BAYN, -1.00%
Macquarie's Um said he looked at the 12 stocks most recently added to the S&P and found that while their performance was uneven across the group, those not previously in the S&P Mid Cap MID, -0.42% before their inclusion in major-league S&P 500 saw an average share price increase of 6.9%, compared with an advance of 0.2% for the S&P 500 on average, on the day of the announcement.
Tesla, which trades on the Nasdaq, is not on the S&P's indexes, including the S&P SuperComp 1500 SPSUPX, -0.26% a mix of the S&P's large-, mid-, and small-cap stock indexes.
Um kept his rating on Tesla stock at the equivalent of buy with a $430 price target, among the highest on Wall Street. Analysts on average have a $321 price target on Tesla, which would represent downside of around 9% over Thursday's share prices.
Tesla shares have gained 13% this year and 15% in the past 12 months, which compares with advances of 5.2% and 6.2% for the S&P and the DJIA this year and of 8.4% and 11% for the past 12 months.