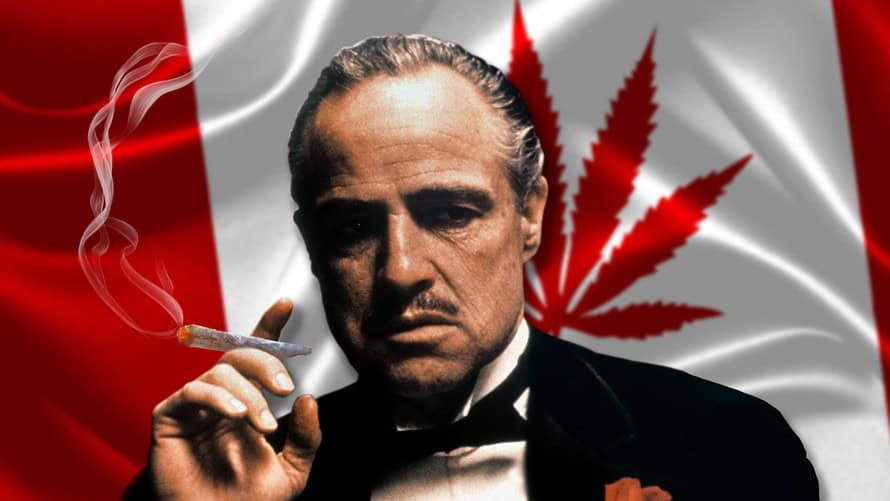 Largest cannabis companies by market cap say they have no ties to the mob; agency in charge of pot licenses says it has seen 'no evidence'
The largest Canada-based marijuana producers denied to MarketWatch that they have done business with or taken investment cash from people tied to organized crime, after a bombshell report to that effect that did not name names.
Canadian Broadcasting Corp., the country's government-backed news outlet commonly referred to as CBC, posted a report late Thursday that said some of the country's major licensed marijuana producers had "longstanding ties" that included business dealings with members of the mob. Beyond links to a powerful Montreal, Quebec, crime family, the report also said that one of the large licensed producers acquired a business with ties to a drug trafficker. That deal included stock and rented space for a pot growing facility, according to the report.
Eliminating mob ties and organized crime from the cannabis business was one of the arguments government officials used in favor of recreational legalization, which took effect Oct. 17 in Canada.
"A very significant proportion of adults in Canada were choosing to disregard the law, and criminal enterprise had 100% control of the market for production distribution, and were profiting in the billions," Bill Blair, Canadian Minister of Border Security and Organized Crime Prevention, said in an interview with MarketWatch last month in Ottawa.
Canadians with criminal records are prohibited from obtaining federally required licenses to grow weed, and while the government has suspended licenses in the past, it has not done so because of mob ties since 2013.
"Health Canada has seen no evidence that organized crime has infiltrated any of the more than 130 federally licensed producers," said Eric Morrissette, the spokesman for Health Canada, the government agency in charge of licensing weed companies.
According to Canada-based author and organized crime specialist James Dubro, there remains a healthy black market in Canada for weed, in large part supplied by organized crime outfits run by bikers and ethnic gangs that have historically pursued selling bootleg cigarettes. He said there's little reason to risk the level of scrutiny that comes with doing business with a public company at this point, but it wouldn't prevent a Mafioso from investing laundered profits through relatives.
"Mafia itself isn't going to be heavy into the pot thing," Dubro said. "It's bikers, they get into bars and strip clubs and, naturally, marijuana shops. They're all over Toronto and Montreal — in the port there and god knows what else."
The CBC article did not name the people or companies involved with the mob, so MarketWatch asked the largest publicly pot producers by market cap if they would deny mafia ties on the record. Those companies were Canopy Growth Corp. CGC, +0.30% , Tilray Inc. TLRY, +0.52% , Aurora Cannabis Inc. ACB, +4.31% , Cronos Group Inc. CRON, +4.68% , Aphria Inc. US:APHQF , CA:APH CannTrust Holdings Inc. CNTTF, +0.95% TRST, +0.67% and Hexo Corp. HEXO, +1.63% HYYDF, +1.72%
Here's what they said
Aphria spokeswoman Tamara Macgregor said the company has no ties to organized crime or drug traffickers.
Aurora Cannabis, through spokeswoman Heather MacGregor, said "Aurora is not involved with individuals associated with organized crime."
CannTrust Chairman Eric Paul denied that the company had ties to the mob, saying that he and a partner founded the company and only took money from friends, family and institutional investors. CannTrust also has not made any acquisitions other than greenhouse investments, he said. "I've been here since day one, and we're the money guys behind things," he said over the phone. "We have no connection to anything like that, we're squeaky clean."
Canopy Growth spokeswoman Caitlin O'Hara wrote in an email, " We are publicly traded because we value transparency, our business is run with integrity by a carefully vetted group of people. Any suggestion or insinuation otherwise would be unfounded and reckless."
Cronos Group spokeswoman Anna Shlimak wrote "No" to each one of MarketWatch's queries about investors with ties to the mob, conducting business with those with mob ties and acquiring an organization with ties to drug traffickers.
Hexo said in a statement the company does not control who buys its shares — responsibilities for vetting retail investors falls to investment advisers, which are regulated by provincial authorities. "We are also not aware of any ties to organized crime and would not conduct business with anyone we were aware had such ties," Hexo director of communications Isabelle Robillard said. Robillard also said that in order to obtain its contract with Quebec's government-run pot retailer, the company received clearance from provincial regulators which includes an investigation by Quebec's anticorruption and economic crime unit.
Tilray spokesman Zack Hutson wrote in an email responding to questions of mob ties, "Absolutely not."
How Canada checks for mob ties
As part of the Cannabis Act in Canada, licensed producers are subject to criminal background checks conducted by Health Canada. Health Canada doesn't conduct the background checks itself, relying on the Royal Canadian Mounted Police, or RCMP — Canadian law enforcement akin to the Federal Bureau of Investigation in the U.S. — which consults various information sources and databases at its disposal. The results are submitted to Health Canada, which makes the final determination about a license.
Key investors in cannabis companies are also subject to the same security clearance as executives and others such as members of the board listed on licensing applications. "Health Canada has the authority to identify additional positions or individuals in an organization who require a security clearance," Morrissette wrote in an email.
The RCMP checks investors, but in some cases,such as those involving shell companies and offshore accounts prove more difficult — an issue that arose during the passage of the bill legalizing cannabis. Regardless of the challenges, any ties to the mob that the RCMP can uncover are enough to kill a license.
"Any ties to organized criminality automatically leads to a rejection of the application," Health Canada's Morrissette wrote.
Weed stocks were trading up midday Friday. Horizons Marijuana Life Sciences Index ETF HMMJ, +2.08% was up 2%, and the ETFMG Alternative Harvest ETF MJ, +1.54% gained 0.9%. The S&P 500 index rose 0.3% SPX, -0.63% as of midday Friday.